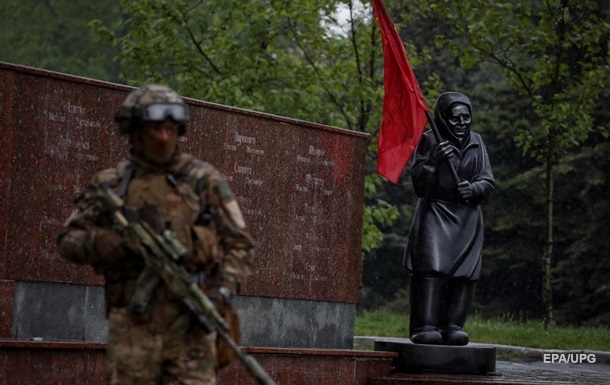 Russian military next to the statue of a grandmother in Mariupol
The occupiers are preparing "decorations" and "extras of eyewitnesses" in the captured Mariupol in order to discredit Ukraine.
Minister of Culture and Information Policy of Ukraine Oleksandr Tkachenko warned foreign journalists against participating in press tours organized by the Russian Federation in the occupied Ukrainian territories. He wrote about this in Telegram May 19.
"Fakes and disinformation of Russia have taken on some incredible forms. Now the occupiers are trying to hold a press tour for foreign journalists on the territory of the occupied Mariupol. The enemy's primary goal is to discredit Ukraine's role in the war," the head of the Ministry of Culture said.
According to him, special "decorations" for foreign media were brought to the city: fragments of Ukrainian ammunition were collected, as well as extras of "local eyewitnesses."
Tkachenko noted that such behavior of the occupiers will only contribute to the spread of their propaganda narratives, since it is impossible to talk about press tours in places controlled by the enemy.
"And for fellow journalists from abroad, I would like to emphasize: crossing the state border or the demarcation line, staying and any activity of the media in the occupied territories is regulated by the legislation of Ukraine. The participation of foreign journalists in any press tours on the territory of Ukraine, including those temporarily occupied by the aggressor, should take place in accordance with the legislation of Ukraine!, – he stressed.
The minister also urged foreign journalists not to step up the Russian propaganda machine.

News from Perild.com in Telegram. Subscribe to our channel