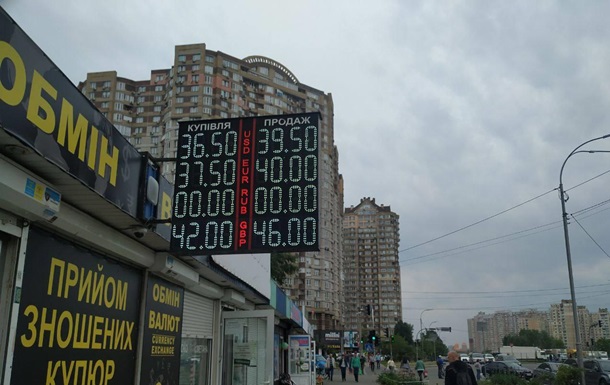 Photo: Page
In exchange offices, the dollar exchange rate approached 40 hryvnias
Since May 21, the regulator has lifted restrictions on the establishment of the cash exchange rate and when paying by card abroad.
Removal of restrictions on the cash rate of purchase and sale of currencies by banks is necessary in order to limit speculation and preserve international reserves. About it informed press service of the National Bank.
The Central Bank notes that the exchange rate against the dollar remains fixed – 29.25 hryvnia. Restrictions on setting the exchange rate by banks in the non-cash segment of the foreign exchange market also remain unchanged. Banks should continue to carry out such operations to exceed the official exchange rate up to +1%.
"Thus, importers can buy foreign currency at a rate that is close to the rate of selling foreign currency by exporters. In the event of a shortage of foreign currency on the market, the NBU closes it by selling foreign currency from international reserves," the report says.
The second segment of the foreign exchange market is cash, where banks can sell cash currency only to the extent that they previously bought it from the population. But, despite the restrictions of the NBU, now in the cash market they mainly buy currency for speculative earnings, financing "gray" imports, which are not critical, as well as transferring savings into foreign currency.
"None of these areas is a critical priority for supporting the economy during the war," the NBU said. Therefore, the central bank does not spend scarce international reserves to smooth out fluctuations in this market segment.
As reported, from May 21, the NBU allowed banks not to limit their rates for the sale of cash currency, and also lifted restrictions on the rate at which banks write off hryvnia funds from cards for cashless payments or withdraw funds from cards abroad.
The regulator explains the decision by saying that it equalizes the conditions for banks compared to exchangers, which will help increase the efficiency of the cash market and reduce exchange rate fluctuations on it. In addition, the exchange rates for temporarily staying abroad and the rates for buying cash currency for citizens remaining in Ukraine will thus converge.
These steps also aim to limit "card tourism". The NBU says that a significant part of transactions with hryvnia cards abroad is cash withdrawals from ATMs. A significant part of this cash then returns to Ukraine and ends up on the illegal cash market.
"That is, de facto scarce foreign exchange resources can be spent on non-priority wartime needs, which is now very important to minimize," the NBU said.
They argue that the new market conditions will allow "to prevent the unproductive withdrawal of capital and protect Ukraine's international reserves"
It should be noted that the NBU decided to lift the restrictions after the recent cash exchange rate of the dollar rose to 37 hryvnia.

News from Perild.com in Telegram. Subscribe to our channel