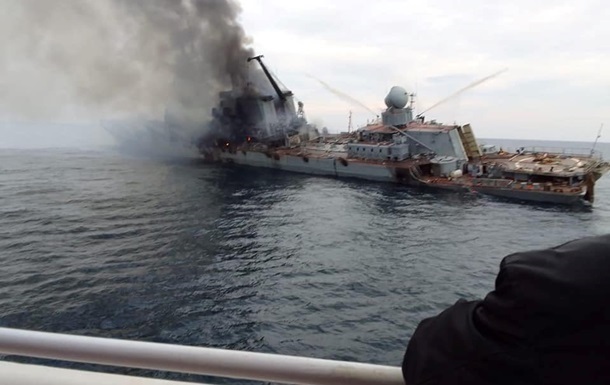 Photo: twitter.com/Osinttechnical/status
The cruiser Moskva was hit by two Ukrainian missiles Neptune
Parents of Russian conscripts are told that their children have disappeared or died as a result of the disaster and are not participants in hostilities.
In Russia, mothers of conscripts from the sunken Russian cruiser Moskva are offered to sign statements stating that their sons "died as a result of the disaster." On Monday, May 23, reports New Newspaper. Europe referring to the mothers of two soldiers.
In particular, we are talking about the mother of the conscript Mukhammed Murtazaev, who served on the cruiser.
"We were informed that my son was included in the list of missing servicemen. At the same time, this information was not provided in writing. We also applied to the Military Commissariat of the Republic of Crimea and on April 29 received a response: "I inform you with regret that your son … Murtazaev Mukhammed Serverovich, who was conscripted for military service, went missing as a result of a disaster on the high seas on the missile cruiser Moscow on April 13, 2022," the woman said.
According to her, at a meeting with the command, relatives were told that the cruiser was in neutral waters and was not a participant in hostilities.
The mother of another deceased conscript told reporters that while trying to understand whether her son was considered dead or missing, she also received notices from the military registration and enlistment office, which said:
"We regret to inform you that your son has gone missing in a disaster."
"They invite this statement to sign and say that there are witnesses who saw how my son was on the cruiser that day, but no one saw where he disappeared. I don't have this in my hands, I didn't even go after him and said "I'm not going to sign anything. And they call me and say that "Three families have already signed a statement, also come and write so that they go to court right away so that they don't drag it out for a long time." They didn't even ask me if I was ready to sign such a statement that I I voluntarily recognize my son as dead… Not even dead. It says "died as a result of a catastrophe," she said, adding that the statement does not indicate that her son was a member of a "special operation."
Recall that the attack on the enemy cruiser Moscow was inflicted on April 13. At the same time, the Russian Defense Ministry claimed that the cruiser Moskva did not sink as a result of the "detonation of ammunition" and the fire and "retains buoyancy." However, later the department admitted that the flagship of the Russian fleet had sunk.

News from Perild.com in Telegram. Subscribe to our channel