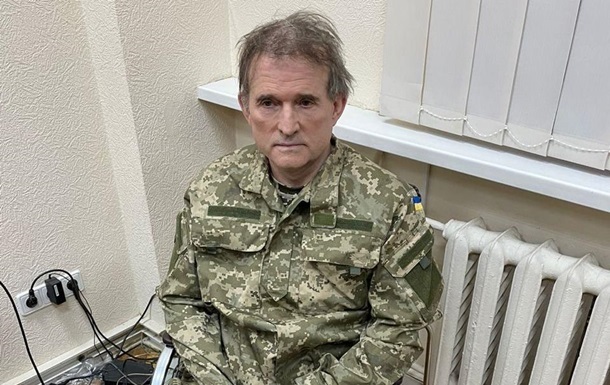 Photo: Telegram/V_Zelenskiy_official
Medvedchuk continues to testify
The People's Deputy spoke about the role of former President Poroshenko in the withdrawal of the oil pipeline from state ownership and the purchase of coal from the separatists.
The testimony of People's Deputy Viktor Medvedchuk confirms the evidence collected by the SBU about the role of the fifth president, Petro Poroshenko, in criminal cases on the withdrawal of the oil pipeline from state ownership and the purchase of coal from the LDNR. This was announced on Monday, May 23, by the head of the SBU Ivan Bakanov.
"Currently, Medvedchuk is cooperating with the investigation… In fact, he confirms the evidence that the SBU has collected… In our opinion, Medvedchuk gave very important testimony, said a lot of interesting things, especially about the role of the former president of Ukraine, Petro Poroshenko," Bakanov said.
According to him, today it is possible to assess the impact of these actions on the economy and security of Ukraine.
"It was then (2014-2015), among other things, that the foundation of today's events was laid. The current war is a direct consequence of the policy of the Russian Federation, which tried in every possible way to maintain its influence on Ukraine. And, unfortunately, the highest officials of our state, in one way or another, helped this "Bakanov says.
"Information from Medvedchuk allows the Ukrainian society to see what exactly the state policy was like before. And the question is not only legal, but also moral responsibility, since we saw an example of incredible political cynicism, when business issues were resolved under patriotic slogans and even terrorists were financed" – added the head of the SBU.
"ON (Medvedchuk) confirms Poroshenko's role in both cases and notes that Poroshenko's role is one of the key ones… The greatest cynicism is that the vertical of power in 2014-2015 worked specifically against Ukraine," Bakanov stressed.
The head of the SBU added that the investigation of these cases is ongoing.
Earlier, the SBU released a video showing Medvedchuk detailing his role in the schemes of former President Poroshenko. Namely, that he not only turned to Medvedchuk with a request to contact the leadership of the Russian Federation, but also ensured that the necessary decisions were made in all Ukrainian instances.

News from Perild.com in Telegram. Subscribe to our channel