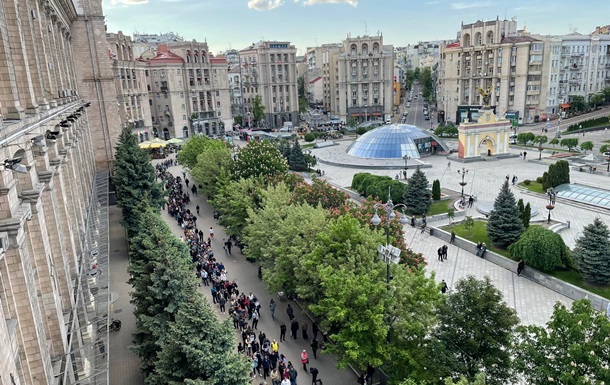 Photo: facebook.com/ukrposhtaceo
Queue for a stamp with a ship to the Main Post Office in Kyiv
In Ukraine, there is again a hype around the brand – queues at post offices take up from the night, and the most enterprising ones are already reselling them on the Internet.

On Monday, May 23, the sale of the next circulation of popular stamps with a Russian ship started in Ukraine. The launch date was not chosen by chance – on the 40th day after the sinking of the legendary cruiser Moscow. And in one day, Ukrainians sold out 800,000 new marks. About it informed General Director of Ukrposhta Igor Smelyansky on Facebook.
"Thank you once again to those thousands of people who came to Ukrposhta all over the country today. About 800 thousand stamps were bought in a day, not counting envelopes, T-shirts, postcards, and so on. Not without mistakes, but the day went well. Someone then somewhere he sold stamps to friends among our employees, someone didn't put everything up for sale? Yes. This is a human factor, and we will deal with it, "Smelyansky wrote.
Nevertheless, already on the morning of May 24, huge queues of people wishing to purchase a stamp lined up near Ukrposhta offices in all cities. Someone signed up in the evening, someone came at six o'clock in the morning and became a live queue.
In addition, on Tuesday, May 24, online sales will start on the four largest Ukrainian sites. Their list can be found on the Facebook page of Igor Smelyansky.
"The next sale of stamps in the branches will be on May 27. We will announce in advance and give a list of branches (1500) where stamps will be sold," Smelyansky wrote.
But enterprising Ukrainians do not waste time in vain, and stamps with a Russian warship appeared on sale on the popular online platform for free ads on the evening of May 23. Prices start from a few hundred to 8-9 thousand hryvnia.
Recall that in April the postage stamp Russian warship, go …! was issued, which caused a real stir. In Kyiv, in front of the Main Post Office, long queues of people who wanted to buy it lined up for several days. Ukrposhta has launched a stamp called Russian warship… That's it!.

News from Perild.com in Telegram. Subscribe to our channel