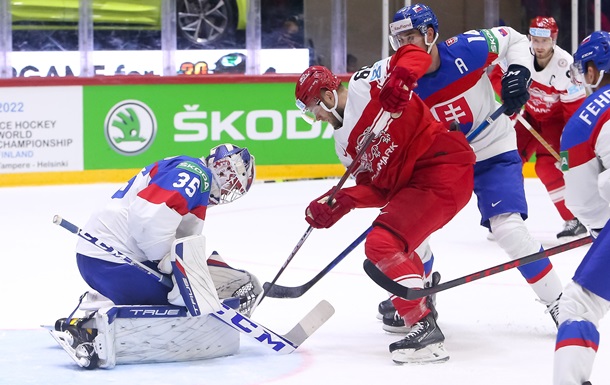 Photo: iihf.com
Slovakia did not let Denmark into the quarter-finals
At the world championship in Finland, all the quarterfinal pairs of the tournament were determined.
The group stage of the Ice Hockey World Championship has ended. On the last day, Slovakia was able to jump into the quarter-final stage, which unexpectedly easily defeated Denmark 7:1 and thus knocked out the Scandinavians from the coveted four of group A.
In addition, we note the victory of the hosts of the tournament. Finland beat the Czech Republic 3-0 to take first place in Group B. The Canadians, meanwhile, warmed up before the quarter-finals against the French, beating them 7-1.

Ice Hockey World Championship

Group A

Canada – France 7: 1 (2: 0, 2: 0, 3: 1)
Washers: 12:40 Cozens (Sunheim, Baterson) – 1:0, 17:31 Comtua (Sunheim, Lowry) – 2:0, 22:07 Dubois (Cozens, Baterson) – 3:0, 35:10 O'Dell (Whitecloud, Holden) – 4:0, 45:29 Whitecloud (Mercer) – 5:0, 48:20 Speech – 5:1, 51:16 Dubois (Batterson, Cozens) – 6:1, 55:19 Severson ( Dubois, Baterson) – 7:1

Slovakia – Denmark 7: 1 (2: 0, 3: 0, 2: 1)
Washers: 10:00 Tatar (Christoph) – 1:0, 19:38 Tatar (Christoph) – 2:0, 21:57 Regenda (Słafkowski, German) – 3:0, 32:17 Rosandich (Lunter, German) – 4:0, 36:20 Slafkowski – 5:0, 47:43 Bleefield (Lauridsen, Ehlers) – 5:1, 58:53 German (Takacs, Roman) – 6:1, 59:19 Regenda (German, Lantosi) – 7:1

Group B

Finland – Czech Republic 3: 0 (2: 0, 1: 0, 0: 0)
Washers: 09:31 Armya (Pesonen) – 1:0, 16:17 Manninen (Sallinen, Granlund) – 2:0, 35:34 Rayala – 3:0

USA – Norway 4: 2 (2: 0, 1: 1, 1: 1)
Washers: 03:45 Hartman (Galchenyuk, Lafferty) – 1:0, 07:20 Baldy (Galchenyuk) – 2:0, 22:43 Martinsen (Haga, Roymark) – 2:1, 28:05 Myers (Hughes, Kuhlman ) – 3:1, 41:59 Rokset (Jacobsen, Trettenes) – 3:2, 59:21 Farrell – 4:2
Ice Hockey World Championship. Quarterfinals. 26 of May
Switzerland – USA
Germany – Czech Republic
Canada – Sweden
Slovakia – Finland

News from Perild.com in Telegram. Subscribe to our channel