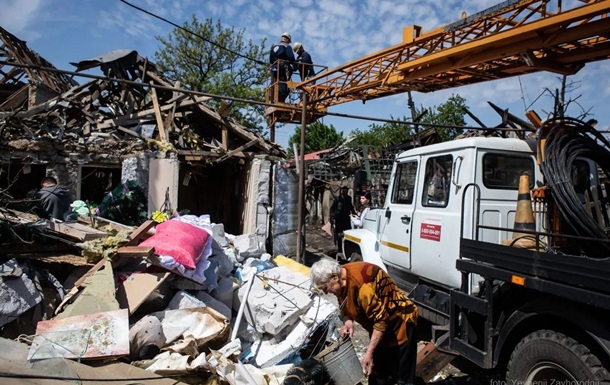 Photo: Zelenskiy / Official
Russian troops in the Kharkov region went over to the defense of the captured positions
When retreating, Russian troops mine administrative buildings and even kindergartens in populated areas.
There are several points in the Kharkiv region where the fiercest battles continue and the occupiers continue to shell the settlements of the region. On Wednesday, May 25, the head of the Kharkiv OVA, Oleg Sinegubov, spoke about this live on the air of a joint information marathon UAraz on Ukrainian TV channels.
"The hottest, fiercest battles continue in the Northern direction and the North-Eastern direction. Of course, the same thing is happening in the Izyum direction. The enemy is constantly trying to attack our positions," the head of the region said.
At the same time, he stressed that the invaders are suffering significant losses both in manpower and in equipment.
As for the liberated settlements of the Kharkiv region, Sinegubov said that the invaders, leaving them, mined administrative buildings and even kindergartens.
"Today, it is impossible to start a full-fledged demining because of the incessant artillery shelling," he said.
He stressed that the authorities are not ready to tell people who have left their homes that it is time to return, even to the liberated territories.
"After all, the enemy continues to strike at these settlements," the head of the UVA stressed.
According to Sinegubov, the occupiers can again go on the offensive in the region as soon as they see an opportunity to do so.
"Kharkov itself will also remain a strategic target for the invaders," he added.
Recall that the grouping of the Joint Forces continues to conduct a defense operation in a certain area of ​​​​responsibility in the Donetsk and Luhansk directions.
Earlier, the head of the Lugansk OVA Serhiy Gaidai said that the situation in the Lugansk region remains extremely tense. The enemy does not stop constant shelling, the region was left without gas. Ukraine controls only 5% of the Lugansk region.

News from Perild.com in Telegram. Subscribe to our channel