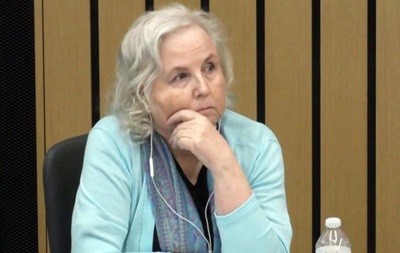 Photo: Frame from video
Nancy Crampton Broffy
The how-to work details the various ways in which a murder can be committed that cannot be traced.
Jury in Portland US recognizes romance novelist and essayist How to kill your husband Nancy Crampton Brophy is guilty of murdering husband Daniel Brophy. Writes about it Тhe Guardian.
Crampton Brophy, 71, was sued by 12 people. She was found guilty of second-degree murder after a two-day trial. Prior to that, the woman had been in custody for four years. She will be sentenced on June 13th. The writer did not react to the verdict in a packed Multnomah County courtroom. The lawyer said she would appeal.
It is noted that Daniel Brophy was the chef. He was killed at 63 on June 2, 2018. The man was preparing to work at the Oregon Culinary Institute in southwest Portland.
According to prosecutors, Crampton Brophy was motivated by money problems in the murder. After the death of her husband, the writer received $ 1.4 million under the insurance policy. However, she stated that she had no reason to kill her husband, and their financial problems were mostly resolved by cashing out part of her retirement savings.
At the same time, the investigation found out that the woman owned the same brand and model of the pistol from which the man was killed. The police never found the gun. The prosecutor's office claimed that the writer replaced the barrel of the weapon and threw it away.
Also, the author was seen on CCTV footage on the way to the culinary institute and back. But she explained this by the fact that she parked near her husband's work to work. According to the lawyers, the robbers killed the man.
Crampton Brophy's how-to essay details the various ways in which the untraceable murder was committed. At the same time, District Judge Christopher Ramras excluded the work from the trial, as it was published in 2011.
Recall that a resident of Volyn ordered her ex-husband not to return the loan issued to him. The woman promised 10,000 hryvnias to the killer for the murder.

In Iran, a husband cut off his wife's head in a square. 18+

News from Perild.com in Telegram. Subscribe to our channel