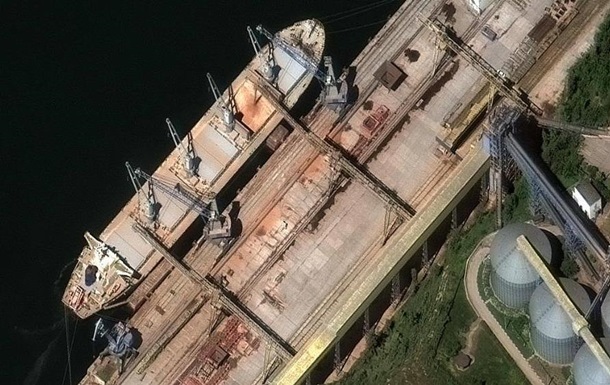 Photo: CNN / Maxar Technologies
Ukrainian grain is taken out by ships
including the theft of 30 grain carriers of the private port operator "Asket Shipping" from Berdyansk and Mariupol
Russian invaders continue to export Ukrainian grain, including by sea to third countries. This was announced by the Commissioner of the Verkhovna Rada for Human Rights Lyudmila Denisova in Facebook.
"A car convoy of grain trucks stolen from the Asket Shipping carrier was seen on the Melitopol highway. Earlier, the Asket Shipping company refused to cooperate with the invaders and transferred its capacities to the west of Ukraine. Berdyansk residents counted more than 30 trucks with trailers filled with grain near the Azovcable plant," she wrote.
The occupiers are also trying to take out the remnants of grain from the Mariupol seaport by rail, for which they began urgently repairing the railway track and the Sartana station.
"The ship Matros Pazinich, which had already transported the stolen grain to Syria, returned to the Black Sea and was loaded again. After leaving the Crimean port, this ship indicated the destination port of Beirut in Lebanon," Denisova said.
She recalled that the theft of food from the occupied territories is a violation of the 1949 Geneva Convention for the Protection of Civilian Persons in Time of War and a war crime in accordance with Art. 8 of the Rome Statute of the International Criminal Court.
"I appeal to the UN Commission to Investigate Human Rights Violations During Russia's Military Invasion of Ukraine to take into account these facts of war crimes and human rights violations of Russia in Ukraine," the Ombudswoman added.
Also, a video is published on the network with a convoy of trucks transporting Ukrainian grain.
Earlier it was reported that the Russian invaders illegally removed from the temporarily occupied territories of Ukraine 500 thousand tons of grain, tens of thousands of tons of sunflower oil, hundreds of kilograms of vegetables and agricultural machinery.

News from Perild.com in Telegram. Subscribe to our channel