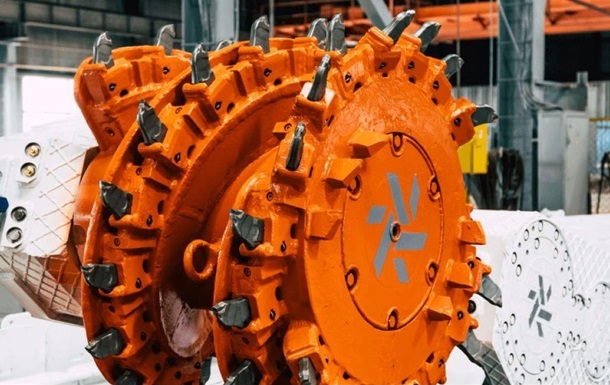 Photo: Corum Group
Corum Group set up production in the west of Ukraine
In early April, Corum Group opened production facilities in the Khmelnytsky and Volyn regions and has already begun production of mine harvesters.
Machine-building company Corum Group, which is part of Rinat Akhmetov's DTEK Energo, has manufactured the first coal mining machine after moving production facilities to the west of Ukraine. About it informs press service of the company on Tuesday, May 31.
"Despite the war and relocation, the latest models of equipment are born in the hands of our machine builders. The RH220 will help Ukrainian miners mine coal faster and safer, and this is the key to the reliable operation of thermal power plants and, finally, light and heat in the homes of Ukrainians," commented Ildar, CEO of DTEK Energy Saleev.
Roadheader RH220 weighing 80 tons is designed for mechanization of breakage, loading and transportation of destroyed rock mass.
It is noted that when assembling the harvester, components from the best European manufacturers were used, which increases the reliability and safety of the mechanisms.
"The machine-building enterprises of DTEK Energy are among the first to successfully transfer production facilities from areas where hostilities continue to other regions of Ukraine during the war. This will ensure uninterrupted supplies of the necessary equipment for Ukrainian miners," the company noted.
After completion of the tests, mass production of this combine will begin.
Recall that Corum Group opened production facilities in Khmelnitsky and Volyn regions on April 11.

News from Perild.com in Telegram. Subscribe to our channel