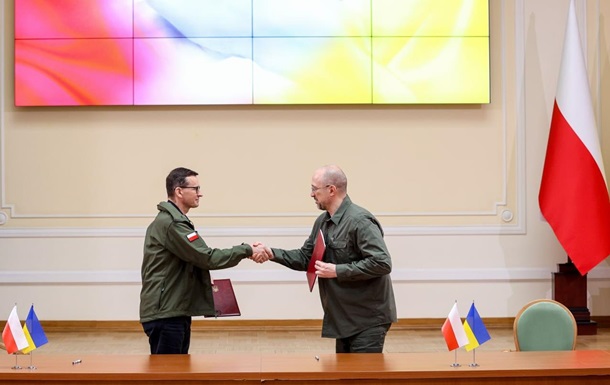 Photo: Shmygal in Telegram
Shmygal and Morawiecki
Ukraine and Poland are deepening cooperation in various fields. including defense and energy.
The governments of Ukraine and Poland at a joint meeting on Wednesday, June 1, signed a number of agreements, informs press service of the Cabinet.
Among them is the Joint Declaration between the Ministry of Funds and Regional Policy of Poland and the Ministry of Development of Communities and Territories of Ukraine.
"Poland will help in the development of Ukrainian communities as an integral part of the recovery plan. We will need Poland's experience in implementing European practices and the effective use of European funds on the way to full EU membership," Prime Minister of Ukraine Denys Shmihal stressed.
Also, a Joint Declaration of the Ministry of Internal Affairs of Poland and Ukraine on the closest interaction at the level of border services and a Memorandum of Cooperation between the Ministries of Energy of Ukraine and Poland to strengthen cooperation in the energy sector were signed.
"Poland supports Ukraine's integration into European energy projects, the development of the gas and electricity market in Ukraine. In addition, our countries agreed on the need to increase cross-border trade in electricity and renew the Khmelnytsky NPP-Rzeszow power transmission line. For Ukraine, this is a very important project that will open up additional opportunities export of Ukrainian electricity to Europe," Shmyhal said.
Among other things, the parties signed a Memorandum on the establishment of a joint Polish-Ukrainian commission to establish cooperation between the enterprises of our countries. As Shmigal noted, this commission will prepare recommendations on the format for creating a Ukrainian-Polish joint venture for the manufacture of weapons and military equipment.
"This will bring our defense and military cooperation to a new level and will allow us to create modern types of defense weapons," the prime minister stressed.
A Memorandum of Cooperation was also signed between the Ministry of Environmental Protection and Natural Resources of Ukraine and the Ministry of Climate and Environment of Poland.
"In the context of the European Green Deal, together with Poland, we agreed to strengthen cooperation in combating climate change, responsible mining, restoration of natural resources, as well as protecting forests and the entire environment," Shmyhal said.
In addition, the Memorandum between the Ministries of Culture of Ukraine and Poland on cooperation in matters of national memory, according to the Prime Minister of Ukraine, will allow, in the conditions of a fruitful dialogue, to resolve all issues related to the past of our countries.
As a result of the meeting, a statement was adopted, according to which Poland supports Ukraine's accession to the EU and NATO, and will also make efforts so that Ukraine receives the status of a candidate for EU membership as early as June this year.
Earlier, Polish President Andrzej Duda confirmed that the country is ready to become a guarantor of Ukraine's security.

News from Perild.com in Telegram. Subscribe to our channel