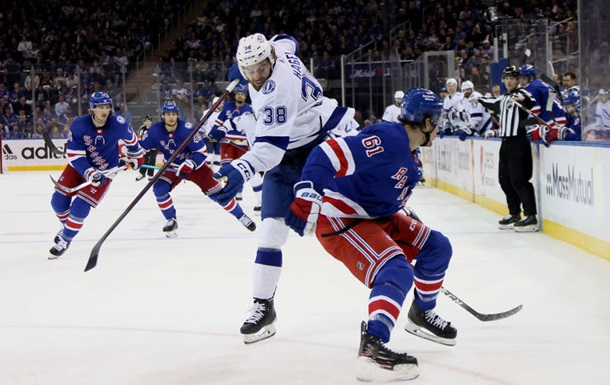 Photo: Getty Images
Rangers beat Tampa in Game 1 of the Eastern Conference Finals
The club from New York did not leave chances to the defending champions in the Stanley Cup on its site.
In the National Hockey League, teams began to find out who is the strongest in the Eastern Conference. This year, the Rangers and defending league champions Tampa Bay made it to the finals. The first match, held in New York, confidently won the hosts.
It should be noted that the equal fight in the duel lasted only the first half, following which the numbers 2:2 were burning on the scoreboard. After the Rangers got together and brought the matter to the defeat of the "lightning" 6:2.

NHL. Playoffs. May 2

Rangers – Tampa Bay – 6: 2 (1: 1, 3: 1, 2: 0)
Washers: 1:0 – 2 Kreider (Vatrano, Zibanejad), 1:1 – 8 Stamkos (Cirelli, Rutta), 2:1 – 28 Vatrano (Fox), 2:2 – 29 Chambers (Stamkos, Cirelli), 3: 2 – 31 Chitil (Lafrenière, Kakko), 4:2 – 36 Chitil (Lafrenière, Miller), 5:2 – 42 Panarin (Trumpet, Kopp), 6:2 – 47 Zibanejad (Fox, Panarin)
Series score: 1-0

News from Perild.com in Telegram. Subscribe to our channel