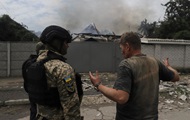 In the West, they believe that Vladimir Putin is set for a protracted war with Ukraine, and is counting on his victory in it.

On the hundredth day of the war against Ukraine, Russia has not achieved any of its goals, but still is not going to stop the aggression. The Washington Post believes that under the pressure of economic problems, the determination of the West in support of Ukraine may weaken.

Ukrainian victory
"Ukraine will definitely win this war," Volodymyr Zelenskyy told Dutch television this week.
Russia's war machine is already under attack from Western sanctions. Ukraine received long-range artillery and multiple launch rocket systems. The scenario of an effective Ukrainian counterattack is quite possible in order to make politicians think about the possible consequences right now. After all, if Putin is threatened with defeat, would he want to aggravate the conflict by using chemical or even nuclear weapons?
"I don't think it's likely that Putin would admit defeat in a conventional war when he has nuclear weapons," historian Niall Ferguson said recently at a seminar at King's College London.

Dead end
Russia and Ukraine may come to the conclusion that they can no longer achieve anything militarily. Russia's military and economic losses are irreplaceable. The Ukrainian people are also tired of the war, people no longer want to risk their lives for the sake of an illusory victory. What if the leadership in Kyiv, not believing that the West will continue to support Ukraine, decides that it is time to sit down at the negotiating table?
US President Joe Biden openly says that the goal of the Americans is to make sure that Ukraine has the strongest possible position at the negotiating table. Many say that the West's desire for Russia to lose is not the same as its desire for Ukraine to win.
However, a stalemate on the battlefield can be expected for many more months, and it will be extremely difficult to achieve a political solution to the conflict. And not least because Kyiv does not trust Moscow: they believe that any agreement with Putin will be used by him as a respite to gather strength and prepare for a new attack. So the peace treaty may not last long, and hostilities will resume with renewed vigor.

War of attrition
The war could go on for months, or even years, while Ukrainian and Russian troops systematically grind each other down.
The Russian president believes he can succeed by demonstrating strategic stamina and betting that the West will tire of helping Ukraine and focus on its own economy and the Chinese threat.
The West, however, has so far shown determination and continues to supply Ukraine with weapons. On the battlefield, front lines have practically taken shape, the war is gradually developing into a positional "endless war".
Putin "believes the West will run out," one well-connected Russian billionaire, who spoke to the publication on condition of anonymity, told WP. According to him, initially Putin really did not expect a strong and united reaction from the West, "but now he is trying to change the situation and believes that in the long term he will win," the billionaire said. Western leaders are vulnerable to important phases of electoral cycles, and Putin is "convinced that public opinion can change overnight," the source told the dictator's train of thought.
"The mood in the Kremlin is such that, they say, we cannot lose – and no matter what the price will be," the source said.
This stance suggests that the Kremlin is counting on its ability to outlast the West in an attempt to weather the onslaught of economic sanctions. Putin has no choice but to continue the war in the hope that the grain blockade of Ukraine "will lead to instability in the Middle East and provoke a new flow of refugees," said Sergei Guriev, a former chief economist at the European Bank for Reconstruction and Development.

truce
Putin could claim that his "special military operation" has achieved its goals: the Kremlin-backed separatists in the Donbass are securely protected, and a land corridor has been laid to Crimea. After that, he could try, from a position of moral superiority, to force Ukraine to stop hostilities.
"Russia could use this technique at any time if it wanted to play on Europe's desire to convince Ukraine to lay down its arms and give up part of its territories in exchange for a conditional peace," says a Russia expert from the Royal Institute of International Affairs (Chatham House) Keir Giles.
This point of view has already been voiced in Paris, Berlin and Rome: why continue the war, it's time to put an end to global economic problems, let's seek a truce.
However, this is opposed by the United States, Great Britain and most of the countries of Eastern Europe, whose politicians are sure that the Russian invasion must fail in the interests of both Ukraine itself and the rest of Europe, as well as the international order.

Russian victory
The West emphasizes that Russia, despite previous failures, still has not given up plans to seize Kyiv and subjugate most of Ukraine. According to one of the government officials, no one canceled this maximum program.
Russia can use its success in the Donbass to free up troops for action in other directions, for example, to move again to Kyiv.
As President Zelensky himself admitted, up to a hundred Ukrainian soldiers die every day in the war, and about 500 more are injured.
Opinions in society may be divided: some Ukrainians will want to continue the war, while others will demand the conclusion of peace and a return to normal life. And some Western countries may get tired of helping Ukraine. But on the other hand, if they see Russia gaining the upper hand, some of Ukraine's allies might want to take the conflict to the next level.