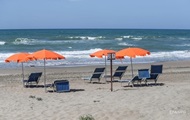 The Russian invaders mined the beaches in the Lazurnoe village, three people were blown up on one of the mines.
In the Kherson region, three residents of Lazurne died after being blown up on the beach by a Russian mine, informs Office of the Attorney General on Saturday, June 4.
"According to the investigation, the military personnel of the Russian armed forces, in violation of the requirements of the Geneva Convention on the Protection of Civilian Population, set mines along the Black Sea coast in the village of Lazurnoye. On June 3, 2022, three civilians, while on a local beach near the boarding house Parus, were blown up by an enemy mine. As a result of the explosion, they all died on the spot.
Under the procedural leadership of the Kherson regional prosecutor's office, a pre-trial investigation is carried out into violations of the laws and customs of war, combined with premeditated murder (part 2 of article 438 of the Criminal Code of Ukraine).
The pre-trial investigation continues.
Earlier it was reported that the Russian occupiers are afraid of the resistance that is growing among the local population of the Kherson region.

News from Perild.com in Telegram. Subscribe to our channel