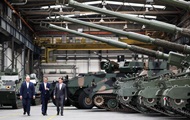 Polish Prime Minister Mateusz Morawiecki announced the signing of the largest arms purchase contract with Ukraine in 30 years.
"Now we are signing one of the largest arms contracts in the last three decades – the sale of weapons for Ukrainians, Ukraine. This weapon is well tested, and today we know that it will be a very important weapon on the battlefield," the office of the Polish prime minister said in a statement. Twitter on Tuesday, June 7th.
The Minister for Control of State Assets of Poland, Jacek Sasin, specified that the contract amount will be $628 million.
Earlier it was reported that Ukraine will buy from Poland about 60 more AHS Krab self-propelled artillery mounts in the amount of 700 million euros in addition to 18 that the Poles previously donated.