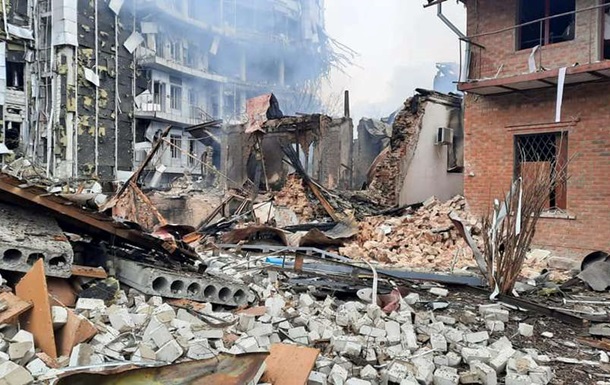 Photo: State Emergency Service of Ukraine
About 30% of the multi-storey housing stock of Kharkiv has been destroyed to one degree or another
The invaders continue to destroy the infrastructure of Ukrainian cities. Approximately 500 residential buildings in Kharkiv cannot be restored at all.

In Kharkiv, during shelling by Russian troops, 3,500 houses have already been damaged. Of these, about 500 are not subject to restoration, about 2.5 thousand more are partially destroyed. This was stated by Mayor Igor Terekhov, speaking at a meeting of the General Assembly of the Association of Cities Winning the Prize of Europe in the Council of Europe (Strasbourg, France), informs Kharkov City Council.
He stated that about 30% of the city's multi-storey housing stock was destroyed to one degree or another. However, Kharkiv continues to live and work. Utilities are constantly repairing something, cleaning, taking out garbage and performing scheduled repairs.
"Every day the enemy destroys infrastructure facilities, residential buildings, demolishes entire microdistricts. And behind all this are the lives and destinies of people. The task of the city authorities is to ensure the life of the city, the safety of citizens and the conditions for restoring the destroyed economy. Therefore, public transport is already working and development has begun of the new Master Plan of the city, headed by British architect Norman Foster. In Kharkiv, it is planned to build new microdistricts and transport solutions using modern technological developments," Terekhov said.
The mayor also said that cooperation with international organizations, sister cities and partners is very important for the development of Kharkiv. Therefore, now the city authorities are working on the concept of creating a Coordinating Council of partner cities for the most efficient use of the inter-municipal cooperation tool. Igor Terekhov asked the members of the Association to support this initiative for the stability and prosperity of the European community.
Recall, earlier it was reported that Kharkiv CHPP-5 started working after an emergency stop. Previously, Russian aggressors damaged the high-voltage networks to which the combined heat and power plant is connected.

News from Perild.com in Telegram. Subscribe to our channel