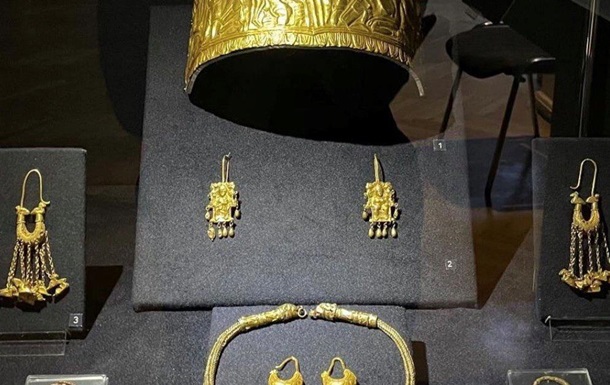 Photo: Zaporozhye Regional Prosecutor's Office
Russia steals Scythian gold and other cultural heritage from Ukraine
Perhaps all this is part of the undermining of the identity of Ukraine as a separate country, American scientists say.
Russia is smuggling valuable historical artifacts from Ukraine into its territory. This was stated by an international group of scientists and digital technology experts who track theft, informs British newspaper The Guardian June 12.
"Now there is very strong evidence that this is a deliberate move by Russia where certain paintings and decorations were sought out and taken to Russia," said Bryan Daniels, an anthropologist who works with archaeologists, historians and digital imaging specialists.
It is noted that from a laboratory in the US state of Virginia, Daniels and his colleagues have monitored the looting and destruction of cultural property since the beginning of the Russian invasion of Ukraine and found patterns in the crimes.
The trail of thefts is heavily focused on Scythian gold. "These items are visually stunning, and there are so many reports of theft now that it's obvious that this is a strategy," Daniels said.
"We will return the Crimea." Judgment on Scythian gold
The scholar does not know if monetary value was the most important factor for Russians, or if the items were chosen for their cultural significance.
"Perhaps all this is part of undermining the identity of Ukraine as a separate country, with a claim to Russia's legal ownership of all their exhibits," Daniels said.
The thefts typically follow threatening interrogations of museum curators and caretakers, he said. Russian attempts to find and steal hidden artifacts in occupied Ukrainian cities are becoming more and more determined, the scientist notes.
Earlier it was reported that during the fighting in Mariupol, Russian invaders destroyed the building of the Art Museum named after Arkhip Kuindzhi, where original paintings by famous artists were located.

News from Perild.com in Telegram. Subscribe to our channel