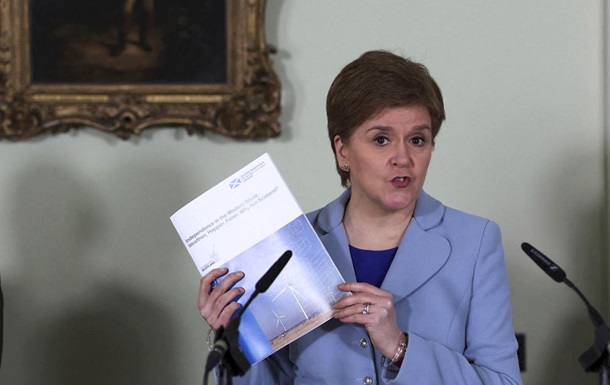 Photo: AR
Scottish First Minister Nicola Sturgeon
Nicola Sturgeon, the head of the Scottish government, said it was time to rethink the matter so that Scotland would leave the United Kingdom.
Scottish First Minister Nicola Sturgeon on Tuesday, June 14, launched a campaign for a second independence referendum. About this, as reported AP.
Sturgeon, who leads the Scottish National Party as well as the Scottish government, said it was time to revisit the issue in order for Scotland to leave the UK.
"After everything that's happened – Brexit, COVID, Boris Johnson – it's time to lay out a different and better vision," she said as she released the first of a series of government documents outlining the case for independence.
Scotland rejected independence in a 2014 referendum, with 55% of voters saying they want to remain part of the United Kingdom.
Sturgeon has said she wants a new independence vote before the end of 2023. This requires a green light from the British government, which opposes a new referendum.
But Sturgeon argues that things have changed since 2014, most importantly because of the UK's exit from the European Union, which most people in Scotland oppose.
"Had we known in 2014 everything we know now about the path the UK has taken, I have no doubt that Scotland would have voted yes then," Sturgeon said.
Sturgeon said that when she was re-elected as First Minister last year, she was "with a clear commitment to give the people of Scotland the choice to become an independent country".
She said on Tuesday that the Scottish Parliament had an "undisputed democratic mandate" to vote. Sturgeon's party leads the majority in the Scottish Parliament, campaigning for independence along with the Scottish Green Party.
Sturgeon called on Boris Johnson's government to issue a special order allowing a legally binding independence referendum. She added that she was ready to discuss terms with Johnson.
Johnson's office again rejected the offer.
"The position of the British government is that now is not the time to talk about another referendum," Johnson's speaker said.
We will remind, earlier Nicola Sturgeon said that Scotland immediately after gaining independence intends to join NATO.

News from Perild.com in Telegram. Subscribe to our channel