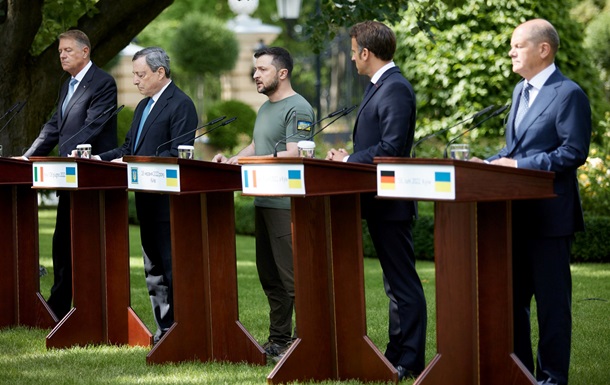 Photo: facebook.com/zelenskiy.official
Meeting of European leaders in Kyiv
The leaders of the three largest countries of the European Union – Germany, France and Italy arrived in Kyiv to discuss the future of Ukraine.
Their visit was not announced for security reasons. Emmanuel Macron, Olaf Scholz and Mario Draghi visited the city where one of the biggest battles took place – Irpin. Later, they gave a joint press conference at which they unveiled their vision of a future world with Russia.
Italian Prime Minister Mario Draghi believes that peace with Russia should be achieved on Ukraine's terms, he said at a press conference.
"We really want peace. We want other cities not to suffer, but Ukraine must defend itself in order to achieve peace. And we, one way or another, will not do anything without taking into account the will of Ukraine. The world must be as it is wants to see Ukraine, and it should be long-lasting," the head of the Italian government believes.
He stressed that during the visit he heard hope from people in Ukraine, and noted that "we are called to support and help Ukraine build its future."
During a visit to Irpen, Draghi assured that Ukraine would receive assistance to restore the infrastructure destroyed by the Russians.
In turn, President Volodymyr Zelensky said that Russia does not want peace, but only wants war and break Ukraine and the EU.
"There is a direct correlation, the more powerful weapons we get, the faster we can liberate our people and our land… Today we touched upon the diplomatic efforts that are being made by different parties to restore peace. Everyone sees that the only obstacle to all these efforts is the unpreparedness of the Russian Federation for real actions, for real negotiations aimed at restoring peace. Russia does not want peace, it wants nothing but war…" Zelensky said.
He also noted that the aggressor state must realize that peace has no alternative and must begin to seek peace.
"In the meantime, we all see and hear today, when the air raid siren sounded, that Russia is only looking for new ways to intimidate Europe and seize more and more of our land. Russia's goal in this war is to break Ukraine and thus break Europe. Russia wants to show that European unification is allegedly incapable of being effective and that European values ​​cannot work to protect freedom. We must break this scenario together," the president said
According to Zelensky, Ukraine understands that the path to the EU will be long, but the Ukrainians are ready to work on it and deserve the status of a candidate. He also voiced Ukraine's needs for weapons:
"We are expecting new deliveries, first of all, heavy weapons, modern rocket artillery, anti-missile defense systems, etc.," the guarantor summed up.
Earlier, French President Emmanuel Macron promised not to force Ukraine into peace talks with Russia. According to him, the Ukrainian authorities personally must determine the conditions for a dialogue with the Kremlin.

News from Perild.com in Telegram. Subscribe to our channel