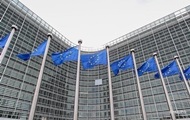 The European Commission officially recommended granting Ukraine the status of a candidate for EU membership.
The European Commission recommends that the European Council grant Ukraine the status of a candidate member of the European Union with the subsequent implementation of the necessary steps. This was announced on Friday, June 17, by EC President Ursula von der Leyen.
The EC also supported the candidate status for Moldova. At the same time, Georgia must fulfill the conditions for obtaining the status.