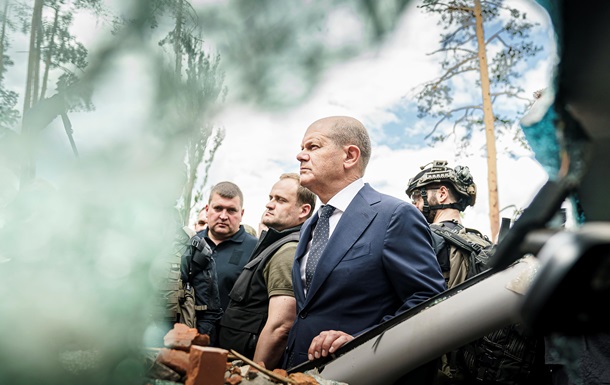 Photo: Getty Images
Scholz visited Irpen
The European Union must move away from the principle of unanimous decision-making in all areas, the German Chancellor believes.
German Chancellor Olaf Scholz advocates reform of the European Union to facilitate the admission of new members. He said this in an interview with dpa.
According to Scholz, not only candidates should prepare for entry. The European Community itself should also prepare for the admission of new members.
"To do this, it must modernize its structures and decision-making processes. It is not always possible to make a decision unanimously, even if today the procedure provides for unanimity," the German Chancellor is sure. According to him, he wants to raise this issue at the EU summit on June 23-24.
The heads of state and government of the 27 EU member states will consider applications for membership of Ukraine, Moldova and Georgia. The European Commission recommended that the first two countries be given the status of official candidates for EU membership. Scholz also made clear support for this approach during a visit to Kyiv on 16 June.
Granting the status of a candidate is possible only with the unanimous support of the member countries. There have been discussions in the EU about softening this principle for a long time, the dpa agency notes. However, the decision to reform the approach can also be taken only by all member states of the community.

German chancellor wants to send momentum to Western Balkans
A week ago, the European Parliament (EP) called for a congress to approve a comprehensive reform of the EU. The EP calls for a move away from the absolute majority approval approach in almost all policy areas.
The German chancellor also hopes that the summit will send momentum to the Western Balkans, which have been waiting for EU membership for nearly two decades.
"We have to show the states of the Western Balkans that we are serious. Albania and North Macedonia are well qualified to start substantive EU accession negotiations – and they should start now," Scholz said.

The issue of the status of the candidate for Kyiv will be considered on June 23-24
On June 17, the European Commission (EC) recommended granting Ukraine the status of a candidate for EU membership. This was announced by the President of the European Commission Ursula von der Leyen. A similar recommendation was given in Brussels for Moldova.
As for Georgia, the EC has recognized Tbilisi's European perspective, but the country will need to implement a wide range of reforms before being granted candidate status.
Transformations are also coming to the other two states. For Ukraine it is seven steps, for Moldova it is nine. Georgia will have to fulfill 12 conditions.

News from Perild.com in Telegram. Subscribe to our channel