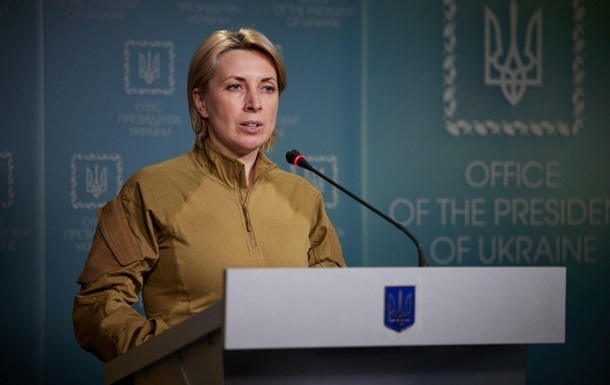 Photo: facebook.com/vereshchuk.ukraine
Vice Prime Minister – Minister for Reintegration of the Temporarily Occupied Territories of Ukraine Iryna Vereshchuk
Residents of the Kherson region, especially those who have children, should not give up opportunities to leave, the minister stressed.
Minister for Reintegration of the Temporarily Occupied Territories Iryna Vereshchuk called on residents of the temporarily occupied territory of the Kherson region to leave the region in order to facilitate the de-occupation of the territory. About this on Monday, June 20, she said at a briefing, Ukrinform.
According to the Deputy Prime Minister, residents of the Kherson region, especially those who have children, should not give up the opportunities to leave that the occupiers provide them, because this will speed up the de-occupation of the region by the Ukrainian army.
"Leave, please, because our army will definitely de-occupy these lands. Our will to do this is unshakable. And it will be very difficult later to open a humanitarian corridor when there are children there. It was difficult in Mariupol, and in the Kherson region it will be even more difficult. Because the enemy is learning, becoming even more cynical, using a human shield, especially children. Believe me, the de-occupation will be very fast. There will definitely be a counteroffensive," Vereshchuk stressed.
At the same time, Vereshchuk urged to use the temporarily occupied Crimea to leave, issued for this by the occupiers "fake" documents and assured that the Ukrainian authorities would not be punished for this.
"They will not break the law if they leave through the temporarily occupied Crimea. We know that today this is almost the only humanitarian corridor, if you can call it that, and how you can leave. So, if possible, leave especially with children," Vereshchuk pointed out.
Further, she recommended moving to a third country and already there contacting any consulate of Ukraine or calling the hotline at numbers 1548 and 1648.
At the same time, Vereshchuk noted that even without documents, Ukrainians will be allowed into all countries, and if necessary, Ukraine will prepare documents and transfer them to one or another consulate.
Former head of the Kherson OV Gennady Laguta toldthat about half of the population remains in the occupied territory of the Kherson region: 450-500 thousand people. Also, more than 600 Ukrainians are being held captive there, among them activists and participants in the war in Donbass.
Recall that Aleksey Arestovich insists not to ignore the air raid warning signals in the next four days, and especially in Kyiv on Pechersk, where "decision-making centers" are located.

News from Perild.com in Telegram. Subscribe to our channel