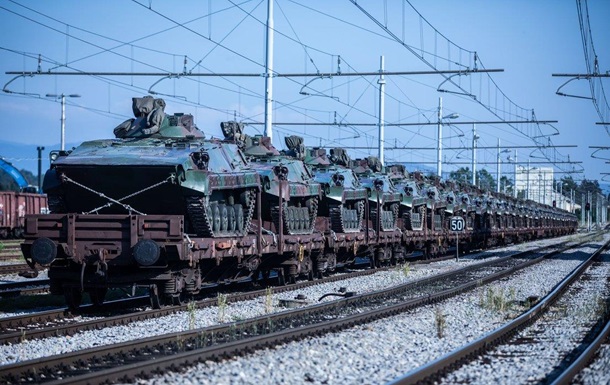 Photo: 24ur
BVP M80A is an amphibious tracked vehicle with a crew of three soldiers and a place for landing
Armored vehicles were stored for many years at the base in the Pivka area. Their reopening took several weeks.
Slovenian authorities handed over 35 armored amphibious infantry vehicles to Ukraine. Today, this equipment should be at the disposal of the Ukrainian military, reports 24UR on Tuesday, June 21st.
It is indicated that in exchange for this donation, Slovenia will receive an even larger amount of weapons from the United States.
The publication writes that Slovenian armored vehicles will be very quickly sent by Ukraine to the eastern front, where even such old weapons are used to protect against Russian aggression.
The armored vehicles were stored at the base in the Pivka area for many years, and their re-mothballing took several weeks. Logistical problems did not allow speeding up deliveries to Ukraine, most likely due to Hungary's ban on the transport of weapons through its territory.
The BVP M80A is an amphibious tracked vehicle with a crew of three soldiers and a place for landing. It is equipped with a 20mm cannon, machine gun and Maljutk anti-tank missile launchers.
Earlier it was reported that in addition to infantry fighting vehicles, Slovenia sent Kalashnikov assault rifles, helmets and body armor and 35 infantry fighting vehicles to Ukraine. Slovenian Defense Minister Marjan Sarec said that the country has exhausted its arsenal of what it can provide at the moment, but in the future it can offer Ukraine assistance with mine clearance and briefing or training for Ukrainian troops.

Misunderstandings arose between Germany and Slovakia due to the supply of tanks to Ukraine

News from Perild.com in Telegram. Subscribe to our channel