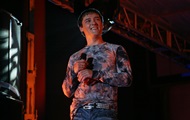 The performer was resting with friends, he suddenly became ill. Comrades took the artist to the nearest clinic.
Russian singer and ex-soloist of the Tender May group Yuri Shatunov died on Thursday, June 23. A video from the last minutes of his life appeared on the network.
The footage shows how Shatunov was led from the car to the doctors. He could hardly move and was breathing heavily. They already took him to the hospital.
The singer stayed in the medical facility for about 10 minutes. Doctors diagnosed Shatunov with acute transmural myocardial infarction. They tried to bring the artist to life, but then they called an ambulance to take him to intensive care. On the way, his heart stopped.
Recall that Shatunov was 48 years old. He spent the last years of his life in Germany.

Chocolate Bunny Pierre Narcisse has died.

News from Perild.com in Telegram. Subscribe to our channel