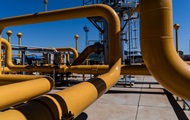 The Kremlin's gas blackmail forced the European Union to hastily look for a replacement for Russian gas in order not to make concessions in Russia's war against Ukraine.
Russia has completely or partially cut off 12 EU countries from gas supplies, Ursula von der Leyen, head of the European Commission, said on June 24. At a meeting of the European Council, meanwhile, EU leaders instructed the European Commission to work on an urgent search for low-cost energy sources to get rid of dependence on Russia.
"In a situation where Russia is using gas as a weapon, the European Council calls on the European Commission to continue its efforts to urgently search for energy resources at affordable prices," the European Council said in a statement.
The EU has no doubt that the Kremlin has made Gazprom the main weapon in the energy war. The Europeans no longer believe in the "technical reasons" for the reduction in supplies and are preparing for a complete gas blockade by the Russian Federation. Perild.com tells what is written about it in the international media.
Waste returns like a boomerang

taz, Germany
Oil, gas and coal have always been cheap – and continued to become cheaper in relation to the purchasing power of the population. There was no need to be frugal. Quite the contrary: goods were made more and more short-lived and energy-intensive, transport routes became longer, cars and houses more and more.
Efficiency gains were canceled out by rising consumption: the more economical the engines, the bigger the cars and the longer the trips…
"From now on, there will be a shortage of gas," German Economy Minister Robert Habeck said.
This is both true and false at the same time. Natural gas, which is as bad for the climate as coal and also finances authoritarian systems, should have been made a scarce commodity many decades ago.
EU fills Russia's budget despite sanctions

Financial Times, Britain
At the G7 summit, a specific package of proposals will be put forward to increase pressure on Russia and demonstrate collective support for Ukraine. In addition to new sanctions, the G7 leaders will discuss steps to stabilize global energy markets.
The measures should further reduce Russia's energy revenues, while at the same time reducing the pressure on the markets.
The US banned Russian energy imports and supported the EU's efforts to curb its own dependence on oil and gas.
But US officials are concerned that, for example, the European Union's ban on insurance for Russian oil cargo could be counterproductive. And as a result, they will lead to a sharp rise in prices, which will fill the Russian budget.
With the nuclear power plant, France is in a better position

Le Figaro, Hotel France
We have energy – stable, clean and in greater quantities than anywhere else … After long hesitation, Emmanuel Macron finally decided to invest heavily in the construction of new nuclear power plants and alternative energy.
Given the climate challenges and strategic imperatives, this seems to be the most reasonable solution now.
All Germany against Gazprom

DW, Germany
Germany has announced an alarm over the situation in gas supply… This is, first of all, a political signal. It is designed to mobilize all of Germany to save gas everywhere in order to enter the winter heating season with gas storages filled to the maximum.
Berlin's announcement of an energy alarm means a new decisive step towards the accelerated overcoming of dependence on Russia.
In other words: Moscow has ensured that the whole of Germany is now mobilized with the aim of finally knocking gas weapons out of the hands of the Kremlin and depriving Gazprom of its largest export market as soon as possible.
Return to coal despite warming

Washington Post, USA
After the reduction of Russian gas supplies, Germany and Austria will restart and re-equip some coal-fired power plants, the authorities of the Netherlands have also lifted restrictions on the operation of such enterprises.
A return to coal would run counter to the climate policies already in place in Amsterdam and Berlin. But without this, according to German Economy Minister Robert Habek, the storage facilities will not be filled by winter.
Europeans are ready for hardships for the sake of Ukraine

Dagens Nyheter, Швеция
Politicians, including those in Sweden, must clearly understand that there is a price to pay for protecting Ukraine and fighting Putin. And the main thing here is the following: they should not proceed from the fact that citizens will refuse to pay this price.
At least six out of ten Europeans consider it important to protect European values ​​such as democracy and the individual freedoms of citizens – even if this means higher inflation and lower living standards…
And nine out of ten respondents do not support Putin's Russia. People in Europe know what values ​​Ukraine is fighting for now.
Putin expects to emerge victorious

BBC News, Britain
Europe wanted to use clean gas in the "green" restructuring of the economy in order to quickly close coal, and in Germany also nuclear power plants …
This was not part of Putin's plans. He criticized the "wise men" from the European Union at all angles, last summer he slightly turned on the tap, and in the fall he staged a large-scale demonstrative deficit …
Putin's development strategy for Russia still assigns it a place as the leading energy power in the region, while in European plans until 2050, Russian minerals were assigned a modest and ever-decreasing role before the war. Aggression against Ukraine has only accelerated this movement in opposite directions – the new EU plan provides for a complete rejection by 2027.
Putin expects to emerge victorious from the current crisis. In his opinion, the EU will continue to buy gas, oil and coal from him, but it will be a different EU.
"Such a break from reality, from the demands of society will inevitably lead to a surge of populism and the growth of extreme, radical movements, to serious socio-economic changes, to degradation, and in the near future, to a change of elites," he said at SPIEF last week.

News from Perild.com in Telegram. Subscribe to our channel