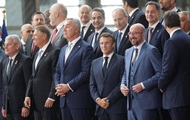 The next seven days will see the EU summit in Brussels, the G7 meeting in Germany and the most important NATO summit in Madrid.
Europe is going through the biggest war since World War II, but faced it without a man to speak for the continent. Angela Merkel was not perfect in this role. It is responsible for the fact that the EU has become energy dependent on Russia, and she has acquired convenient levers of pressure on Europe, she is responsible for appeasing the aggressor, which led to a new attack on Ukraine. But Merkel was a good crisis manager – when needed, she could sit EU leaders together and find a common solution.
What will happen after it?

Macron's hopes
Angela Merkel left the political arena last autumn, and the hope that her crown of de facto leader of the EU will go to him was cherished by Emmanuel Macron.
But Macron never enjoyed unquestioning authority in Brussels.
In many countries, especially those that are geographically closer to Russia (like Poland and the Baltic states), Macron is seen as too nice to the Kremlin.
In early June, the leaders of these countries reacted with caution, if not outrage, to his call not to humiliate Vladimir Putin, to let him save face in order to leave room for a diplomatic solution to the conflict in Ukraine.

Scholz is not the same
Olaf Scholz, who succeeded Merkel as head of Europe's richest country, failed miserably to lead the EU in dealing with the crisis caused by Russia's invasion of Ukraine.
Yes, he has launched major reforms at home, promising to modernize and invest in Germany's military for the first time since World War II. It took a lot of courage to do something like this, given how much Germans feel about their history.
But look how dismal the picture of Scholz's domestic popularity ratings is, or ask his EU colleagues: did Mr. Chancellor seize the moment? No.
Since the beginning of the Russian invasion of Ukraine, it seems that events constantly take him by surprise and he is afraid to take the lead. His slowness with arms supplies to Ukraine is one example.

Poland and the Baltic States
The voice of Poland – like the voices of the three Baltic countries – is getting louder in both Brussels and NATO.
Now it is they, the states that shared a common geography and history with Russia, that are becoming the new leaders and driving force in the EU – and this is a direct result of Russia's attack on Ukraine.
These states feel that their point of view has finally been heard and respected – after years of rejecting warnings that the West is heading straight for a security crisis due to the Kremlin's actions.

Disagreements due to war
The longer Russia continues military aggression, the more difficult it will be to maintain unity of opinion within the EU and a wider range of Western coalition countries.
For example, there is disagreement among Western countries about what Ukraine's goals in this war should be.
Yes, Western powers agree that Russia must fail in Ukraine. But what does this mean in practice?
Officially, of course, the allies will say that Ukraine itself must decide what its military tasks are. But for Ukraine, the specific opportunities to plan military operations directly depend on what kind of weapons and how much the West will supply it with.
And here those states that are geographically closer to Russia (the Baltic states, Poland and most of the former communist countries of Central Europe) also take a much more hawkish approach.
These countries would like to teach Russia a lesson. They take roughly the same stance as the UK, whose prime minister and foreign minister are far more blunt about Russia than the traditional EU leaders Germany, France and Italy.
Berlin, Paris and Rome have a different approach. They are focusing their efforts on ending the fighting in Ukraine. Not at any cost, of course. They sincerely support Ukraine and its military.
But many Western European leaders also have opinion polls in their own countries in mind. Voters fear that the war in Ukraine will escalate and lead to the use of nuclear weapons.
Prices rising because of the war are also cause for concern. As well as a potential new migration crisis in Europe if the people of the Middle East and Africa start to flee the famine caused by Russia's blockade of Ukrainian grain exports by sea.
The US is trying to sit on two chairs, balancing between two contrasting approaches in the EU in the hope of maintaining the unity of the Western coalition.