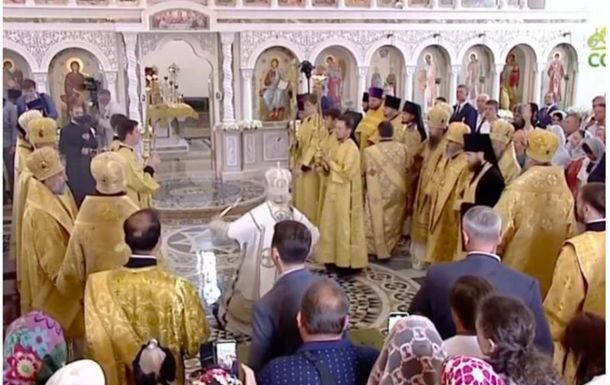 Photo: Screenshot
The head of the Russian Orthodox Church fell in the temple
The incident was attributed to covid restrictions, due to which there was no one near the patriarch within a meter radius.
On Saturday, June 25, in Novorossiysk, during the consecration of the temple, the head of the Russian Orthodox Church, Patriarch Kirill, fell on the wet marble floor. About it report Russian media.
It is reported that they did not have time to catch him, since there was no one next to him within a radius of a meter, although covid restrictions in the region were practically lifted.
Protodeacon Andrey Kuraev wrote off the situation for coronavirus restrictions.
"Neither the security guards, nor the protocol service, nor the bishops standing nearby were in time. The patriarch hurt his back on the edge of the pulpit. The liturgy continued. Metropolitan Gregory and the local bishop Theognost look guiltily at the patriarch and wait for a reaction. But the coronavirus restrictions are to blame, due to which the patriarch does not allow you to touch him and support him on the steps," Kuraev wrote.
Earlier, the head of the OCU, Epiphany, said that Gundyaev sided with the Antichrist. According to him, the ideology of the "Russian world" is no different from the ideology of Nazism.

News from Perild.com in Telegram. Subscribe to our channel