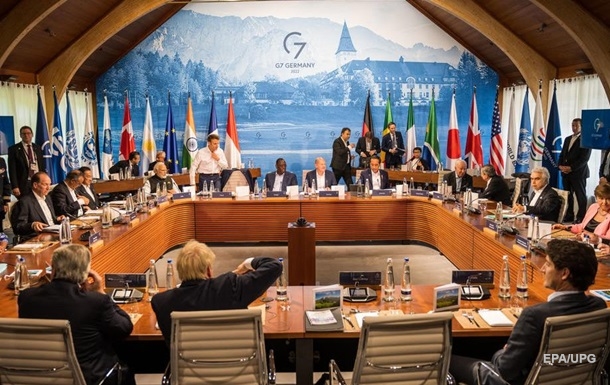 The G7 countries intend to continue to help Ukraine, and also turned to Russia.
The leaders of the G7 at the summit in Berlin on Monday, June 27, adopted statement regarding Russia's military aggression against Ukraine.
The document states that the G7 countries will continue to support Ukraine, its sovereignty and territorial integrity. It was noted that Ukraine itself must decide on a peaceful settlement without outside pressure.
It condemns the aggression of Russia, which is carried out with the support of Belarus.
"We remain shocked and continue to condemn the brutal, unprovoked, unjustified and illegal aggression against Ukraine by Russia with the support of Belarus. We condemn and do not recognize Russia's ongoing attempts to redraw borders by force," the statement said.
The G7 leaders also expressed concern about Russia's intentions to transfer nuclear-capable missiles to Belarus.
"We reiterate our condemnation of Russia's unjustified use of nuclear rhetoric and signals. Russia must comply with its international obligations, including those that prohibit the use of chemical, biological or nuclear weapons. We call on Russia to act responsibly and exercise restraint, and reiterate, that any use of such weapons would be unacceptable and would entail grave consequences. In this regard, we express serious concern after Russia's statement about the possible transfer of nuclear-capable missiles to Belarus," the statement said.
Also, the G7 countries call on Russia to guarantee the free passage of ships with agricultural products from Ukrainian ports in the Black Sea.
It is emphasized that the G7 countries intend to strongly support Ukraine in the production and export of grain, vegetable oil and other agricultural products.
"We will also promote the development of coordinated initiatives to ensure global food security, as well as respond to the causes of the global food crisis," the statement said.
In addition, the G7 countries agreed to explore ways to channel revenue from duties imposed on Russian goods to Ukraine.
"We will continue to coordinate tariff measures on imports from Russia and explore possible ways to use the proceeds from them to help Ukraine, where possible, based on relevant legislation," the document says.
Moreover, the G7 countries will agree and expand sanctions on Russia's access to "key industrial resources, services and technologies" of these countries, in particular those that "support the Russian military-industrial base and technology sector."
"We are determined to cut Russia's income, including from the sale of gold," the document says.
It should be noted that President of Ukraine Volodymyr Zelensky spoke via video link at the G7 summit. He demanded to provide Ukraine with air defense systems, impose additional sanctions on Russia and security guarantees.

News from Perild.com in Telegram. Subscribe to our channel