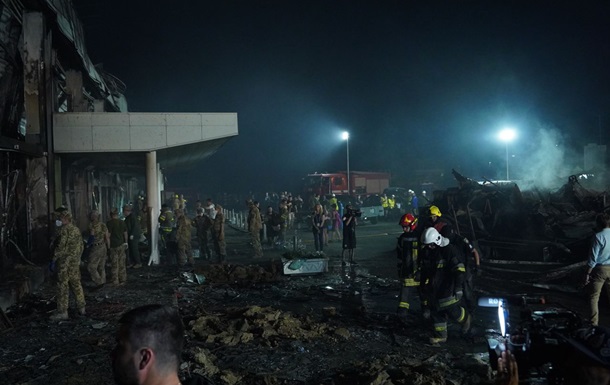 Photo: t.me/Pravda_Gerashchenko
Work on the site of the destroyed shopping center continues
The main tasks currently performed by rescuers are carrying out emergency rescue operations, removing rubble and eliminating fires.
As of 00:32 on Tuesday, June 28, the number of people killed in a missile attack by Russian troops on the Amstor shopping center in Kremenchug is 15 people. This was announced by the head of the Poltava OVA Dmitry Lunin.
"At the moment, 15 dead are already known…," he wrote on his Telegram channel.
As is known, 59 people were injured as a result of the attack, almost half of them are in serious condition.
According to the adviser to the Minister of Internal Affairs Anton Gerashchenko, only by Tuesday morning will there be an understanding of how many people died in total.
"It's very hard for rescuers to work, because it's impossible to breathe inside. Now several hundred people are working, they will be clearing the rubble all night. Among all the wreckage, pieces of a Russian rocket made of titanium, aluminum are already being found. There are very few chances to find someone alive: after huge rocket impact was a terrible fire," he added.
In turn, the State Emergency Service reportedthat at 00:30 a fire in the shopping center building was localized on an area of ​​10,300 sq.m.
"The main tasks currently being performed by rescuers are carrying out rescue operations, clearing debris and eliminating fires. All response teams are working in an enhanced mode. Psychologists are working on site. Work will be carried out around the clock," the message says.
Earlier, the State Emergency Service reported that, according to preliminary data, at the time the Russian missile hit the shopping center in the city of Kremenchug, there were about 200 people there, the exact number of those evacuated during the air raid is being established.

Zelensky about the strike on the mall: Frostbitten terrorists

News from Perild.com in Telegram. Subscribe to our channel