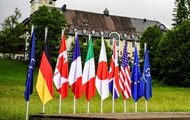 The G7 leaders discussed the possibility of capping Russian energy prices.
The development of a mechanism has begun, with the help of which a price ceiling for Russian oil and gas will be introduced. This was announced on Tuesday, June 28, by French President Emmanuel Macron following the summit of the G7 leaders in Berlin.
"The first mechanism that is being considered is the establishment of a price ceiling for Russian oil. Such a mechanism does not exist today. Thinking about it has begun. I support this. It's a good idea. But there is a technical difficulty in that Russian oil does not flow through a single pipe. "It is sold to different countries. There is both crude oil and refined oil. A number of countries process it. For this initiative to work, it is necessary to expand the alliance of buyers as much as possible … who will agree to this, set a price ceiling and achieve its effectiveness," he said. Macron.
According to him, following the G7 summit, technical work should begin.
"Is it possible, after leaving the G7 summit, to press the button and declare that the price ceiling has been set? No. This is not true, because the technical mechanism does not exist," the French president said.
The same task lies ahead for Russian gas. "It's easier. It comes through the gas pipeline. And Russia's ability to switch to liquefied gas is very weak. I also support this very much," Macron said.
In addition, politicians are urging energy buyers to better coordinate their actions in order to speak with producers from a unified position. Coordination of large buyers will allow to better maintain prices for gas and oil, both crude and oil products.
Macron added that this raises many technical issues that will be addressed in the coming months both in the US and the EU, and in general in the G7.
Under the US plan, Ukraine's allies would pay Russia no more than the cost of production for its oil. Russian oil will continue to flow to world markets, helping the global economy, but the Russian Federation will receive less money for it.
Earlier it was reported that during the 100 days of the war against Ukraine, Russia received 93 billion euros from energy exports.

News from Perild.com in Telegram. Subscribe to our channel