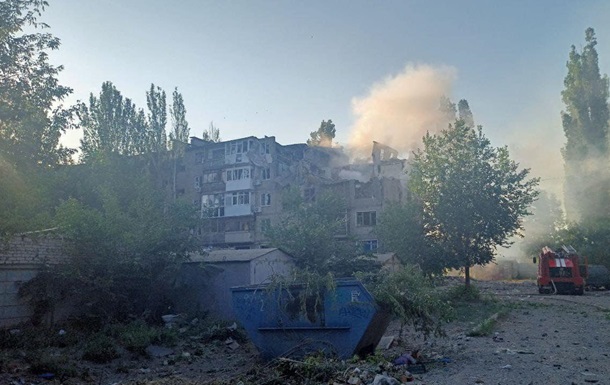 Photo: facebook.com/MNS.GOV.UA
The rocket hit a residential five-story building
A Russian rocket destroyed part of a residential five-story building. How many people were in the house is still unknown. Another rocket fell into the garage cooperative. 15 garages burned down along with cars.
The Russian military on the morning of Wednesday, June 29, launched eight missiles at Nikolaev, which hit different parts of the city. From under the rubble of the destroyed five-story building they got one living person. The mayor of Nikolaev Alexander Senkevich told about it on air of a telethon.
"There were eight missile strikes in total. The missiles hit different places in the city, including the territory of the private sector. One missile hit a five-story residential building. The rescue operation is ongoing. Rescuers are working on the spot. One person was pulled out from under the rubble alive, doctors provide the necessary assistance. According to preliminary data, no serious injuries were recorded," Senkevich said.
At the same time, he pointed out that in the affected house one entrance was completely destroyed and the second was partially destroyed. According to him, it is not known how many people could be in the house at the time of the impact, because no one keeps a record of the people who remained in the city.
"From the first day of a full-scale war, I have been asking you to leave the city. According to our estimates, more than half of the inhabitants have already left the city. We hope that at the time of the impact there was a minimum number of people in the house, that they had evacuated in advance. The rescue operation will be carried out until the end of the debris clearing" – recalled Senkevich.
In addition, he noted that the Russians were hitting the city with some modification of the Kh-55 missile – a guided missile that was aimed at the city.
local edition News-N reports that another rocket exploded on the territory of the garage cooperative.
"A five-meter funnel formed in the middle of the cooperative. After the explosion, a large-scale fire started – more than 15 garages were burning, most of which had cars that also caught fire," the report says.

Carefully! Profanity!
Let's remind, in the morning in Nikolaev Russian troops launched a missile attack on a residential high-rise building. Initially, two dead and three injured were reported. The death toll later rose to three and the wounded to five.

News from Perild.com in Telegram. Subscribe to our channel