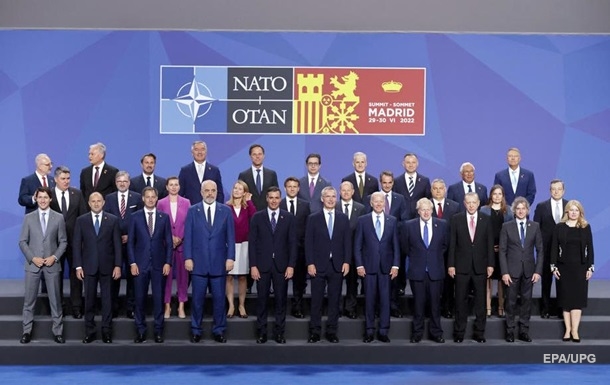 Now this issue is not a priority, but it is ready to be considered after Ukraine's victory in the war.
NATO is ready to return to consideration of the issue of Ukraine's accession after its victory in the war with Russia. This was stated by the representative of the North Atlantic Alliance during the summit in Madrid on Wednesday, June 29.
"Now the focus of the Ukrainian government is to win the war. And this is something we fully support. And when Ukraine wants to talk again about the next steps, we will return to this issue. Now the focus of all of us is to make the greatest contribution that would help Ukraine on the battlefield against the Russian invaders. And when Ukraine is ready to return to the issue of time intervals … And, again, it is up to Ukraine. However, the focus now is to win the war," he said.
"The progress we saw yesterday with Finland and Sweden shows very directly that the doors of NATO remain open. There is no fatigue from the expansion of the North Atlantic Alliance," the official added.
He also said that the NATO summit will decide on a new comprehensive package of assistance to Ukraine.
"As you know, all lethal assistance is provided by the allies on a bilateral basis or directly, but not through NATO organizations. I will give a few examples of what we have already provided from non-lethal supplies – fuel, means of protection against chemical, biological, nuclear threats, medicines. We have the range of project proposals is growing, we intend to continue to provide non-lethal assistance. We are also increasing humanitarian assistance," the representative of the Alliance said.
In turn, NATO Secretary General Jens Stoltenberg, opening the Madrid summit, said that the alliance will continue to provide unprecedented support to Ukraine so that it wins the war that Russia is waging against it.
"NATO allies continue to stand by Ukraine. We are meeting at a key moment and our Madrid summit will be a summit of transformation. The decisions we make will determine our security for decades to come," he stressed.
Stoltenberg called the summit historic – Finland and Sweden will be invited to membership, and Russia will receive the status of a "threat".

News from Perild.com in Telegram. Subscribe to our channel