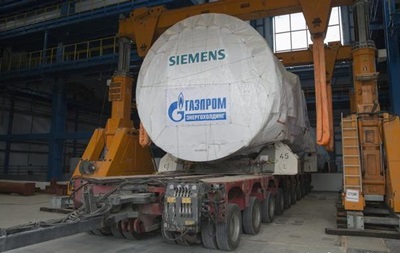 Photo: dw.com
Gas turbine manufactured by Siemens in Russia
The head of the Supervisory Board of Siemens Energy, Joe Kaeser, considers unfounded accusations that gas supplies to Germany have been reduced due to delays in the repair of Russian equipment by Siemens.
Siemens Energy, a German energy company, denies accusations from Russia that gas supplies to Germany had to be cut due to untimely maintenance of turbines.
"It's very convenient to involve a company that is well known in Russia," said Joe Käser, Chairman of the Supervisory Board of Siemens Energy, in an interview with the Süddeutsche Zeitung on June 28. "Even if it were, it would never justify such a strong reduction in gas flow ".
In mid-June, the Russian gas monopoly Gazprom significantly reduced gas supplies to Germany via the Nord Stream 1 pipeline, explaining this by a delay in the repair of equipment handled by the German concern Siemens.
German Chancellor Olaf Scholz criticized this explanation, calling it a pretext.
On July 11, a ten-day planned maintenance of the pipeline will begin. Energy suppliers and German Economy Minister Robert Habeck are concerned that Gazprom may not resume gas supplies via Nord Stream 1 after this.
Source: DW
Recall that in mid-June, Gazprom reduced gas supplies via Nord Stream 1 by 60%. Because of this, the price of gas in Europe has exceeded $1,500 per thousand cubic meters.
It was also reported that Russia has limited gas supplies to 12 EU countries. Already 12 EU countries have been completely or partially cut off by Russia from gas supplies.
Siemens spoke about the problems with the repair of Sevpotok-1

News from Perild.com in Telegram. Subscribe to our channel