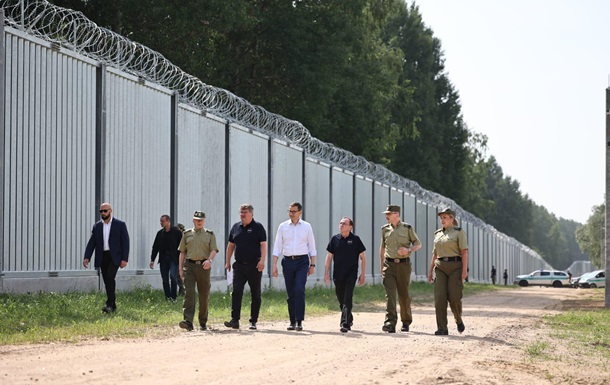 Photo: MSWiA
Government officials arrived at the border in connection with the completion of the construction of the fence
It took five months and 49 thousand tons of steel to build a fence over 186 kilometers long.

In Poland, after five months of work, the construction of a five-meter-high fence on the border with Belarus was completed. This was announced by the Polish border agency on Thursday, June 30.
"On January 25, the construction of a physical barrier on the border between Poland and Belarus began. Work is being completed today. Five months of intensive work and monitoring. 186.25 kilometers and 49,000 tons of steel. It will be safer this way," the message says.
In connection with the completion of work, Prime Minister of Poland Mateusz Morawiecki and other officials came to the border.

#barrier🇵🇱🇧🇾
On January 25, the construction of the physical barrier at the border started
Today, work on it is coming to an end.
5 months of intensive works, supervision and commissioning were carried out by inspectors of the construction-officers and employees of the Border Guard.
186.25 km, 49 tys.ton stali
It will be safer 💪 pic.twitter.com/XN02Vxfhqx

– Border Guard (@Straz_Graniczna) June 30, 2022
Recall that in the fall of 2021, the Polish Parliament approved the construction of a fence on the border with Belarus. This need arose in connection with the migration crisis, which was staged by the current authorities of Belarus.

News from Perild.com in Telegram. Subscribe to our channel