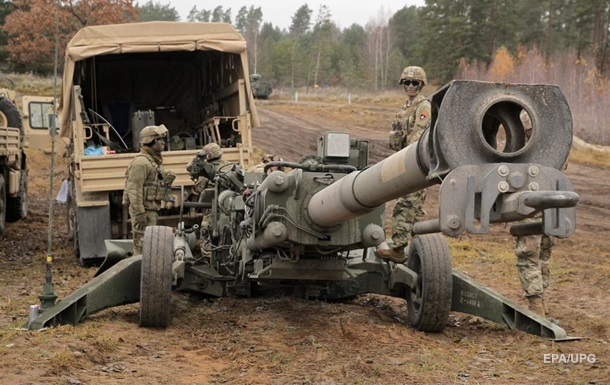 Ukrainians are taught to shoot from new weapons
Britain is training several hundred Ukrainian soldiers to handle the new weapons it is supplying to Kyiv to fight Russian aggression.

Western countries not only supply Ukraine with weapons to counter Russian aggression, but also train Ukrainian soldiers to handle them. Defense Minister Oleksiy Reznikov said that thousands of Ukrainian defenders have already mastered the use of weapons from Western partners, and the exercises are still ongoing. According to him, Ukrainian fighters learn quickly and any weapon in the hands of the Armed Forces of Ukraine becomes even more effective. How are these workouts going?

Where do they teach
"We are learning. We are learning quickly. We will just as quickly master aviation and other types of high-tech weapons. Those who doubted this have already changed their minds.
Any weapon in the hands of our warriors becomes even more effective. We will expel the occupying terrorist from our land. Victory is ours," Reznikov said.
In particular, Ukrainian fighters are trained in Great Britain, Italy, Lithuania, Poland, Slovakia, Slovenia, France and Germany.
In addition, this week, with the support of Britain, a course of basic combined arms training for military personnel of the Armed Forces of Ukraine began.

Desire rolls over
In particular, Ukrainians are learning to use British multiple launch rocket systems (MLRS) with a range of more than 80 km. Britain, judging by open information, will supply Ukraine with three such modern systems.
The United Kingdom also purchased 50 howitzers for the Armed Forces of Ukraine. The light model L119 can hit targets at a distance of up to 12 km. The British and New Zealand soldiers who are training are impressed by the willingness of Ukrainian soldiers to learn.
"Their motivation to learn as quickly as possible is incredibly strong… They rarely rest," says artillery officer Rebecca Bullock.
"They understand that they don't have much time, so they want to learn as many new skills as possible, they just work, work and work – and ask a lot of questions. How can they act faster, how can they move faster, how to use weapons? A very strong accent done at speed."
Together with New Zealand captain Jonathan Dick, Bullock teaches troops how to use the L119 howitzer.
"We definitely see a high degree of motivation and dedication of these guys, who are loyal to the idea of ​​​​defending Ukraine," says Dick.

Need time
Western heavy artillery has already begun to reach Ukraine, although in smaller numbers than Kyiv requested. Military training also takes time.
The transition to Western weapons became even more important after the APU began to run out of stocks of artillery shells made back in the USSR. NATO countries use shells of other calibers.
Captain Dick considers the L119 howitzer with 105 mm shells to be a very effective weapon.
"It's very mobile, it can be attached to a helicopter, it's easy to move, it can be transported on big and small trucks," he says.
Dick believes that the L119 will fill a gap in the equipment of the Armed Forces. "Hopefully they will be able to use it properly," says Rebecca Bullock.
Ukrainian soldiers arrived in Britain already experienced artillerymen. The head of the American Joint Staff, Mark Milley, called them first-class shooters.
The West says it will support Ukraine in the long run. Today there are a few hundred UAF officers training in Britain, but tomorrow it could be thousands. British Prime Minister Boris Johnson proposes to train 2,500 Ukrainian soldiers every month.