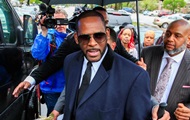 However, it doesn't end there. There are several more trials ahead of the singer. In particular, related to the production of child pornography.
Popular American singer Robert Kelly – R. Kelly, who became famous for the song I Believe I Can Fly, got into a sex scandal and received 30 years in prison. This is reported TMZ.
The jury found the artist guilty of kidnapping, sexual exploitation of women and sexual relations with minors.
The meetings were held in New York for a month. As a result, the rapper was convicted on nine charges and fined $100,000. At the same time, R. Kelly has been in custody since the summer of 2019.
Law enforcement officers found witnesses who confirmed that the rapper committed these crimes, and his managers, security guards and assistants helped find the victims.
The artist's lawyer, Jennifer Bonjean, demanded no more than 10 years for the ward, since, according to her, Kelly himself was a victim of sexual abuse in childhood. This injury, according to the lawyer, allegedly provoked the development of the singer's hypersexuality.
Many crimes were committed 10 years ago. R. Kelly himself, who, by the way, is now 55 years old, intends to file an appeal.
Earlier it was reported that Kelly faces 25 years in prison.

R Kelly's girlfriend talks about his kennel sex dungeon

News from Perild.com in Telegram. Subscribe to our channel