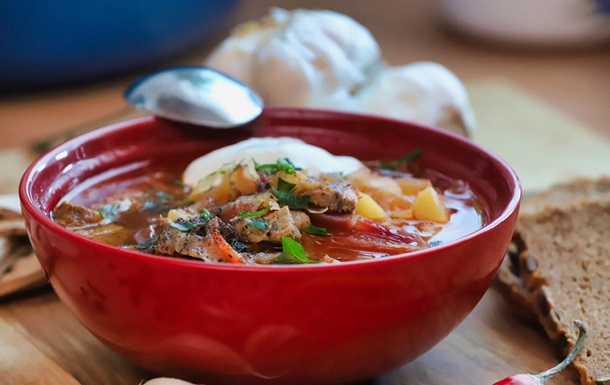 Photo: Igor Lukin/Pixabay
Borscht was recognized as Ukrainian
A few years ago, the Russian government decided to appropriate the Ukrainian national dish.
The culture of cooking Ukrainian borscht was included in the UNESCO list of intangible cultural heritage in need of immediate protection. This decision was made on July 1 at an extraordinary meeting of the Intergovernmental Committee for the Protection of the Intangible Cultural Heritage.
Minister of Culture and Information Policy of Ukraine Oleksandr Tkachenko called the UNESCO decision "a victory in the war for borscht".
"The battle for borscht began even before the war. And no matter how much Zakharova (speaker of the Russian Foreign Ministry – ed.) told that "cooking books were forbidden, and the recipe was kept secret and not allowed to be cooked" and in general our borscht is "a manifestation of extremism and Nazism", this "manifestation of extremism" is now officially Ukrainian and officially under the protection of UNESCO," he said.
Zakharova stated that the main reason for the "special operation" of the Russian Federation is the question of the nationality of borscht.pic.twitter.com/q74Jt7dEM5

— Toxic Content (@SpiritOfSiberia) April 7, 2022
In March 2021, Ukraine proposed to UNESCO that the "culture of cooking borscht" be included in the list of the intangible culture of mankind. A decision on this should have been made in 2023, but due to the war in Ukraine, UNESCO decided to speedily consider the Ukrainian application for inclusion in another list – a list of cultural heritage in need of immediate protection.
As it is now indicated on the UNESCO website, the culture of cooking Ukrainian borscht dates back centuries and is passed down in Ukrainian families from generation to generation; this dish is celebrated in fairy tales, folk songs and sayings, and is also an important sign of identity.
"Borscht is a symbol of hospitality that unites people at the table, regardless of their age, gender and profession," the organization said in a statement.
At the same time, it is noted that the culture of cooking borscht was in danger after the start of the war in Ukraine – due to the forced relocation of bearers of traditions from cultural contexts, as well as the destruction of agriculture, which deprived people of access to the products necessary for making borscht.
The national identity of borscht has regularly become a cause of controversy in social networks.
The Internet war that led to today's UNESCO decision began in 2019 due to a tweet from the official account of the Russian Foreign Ministry, which said: "An eternal classic, borscht is one of the most famous and beloved Russian dishes and a symbol of national cuisine." Perild.com tells how social networks reacted.
Yesterday they released Serpentine, today they released borscht
Ukrainian borsch is de-Russified!
At an extraordinary meeting of the Intergovernmental Committee for the Safeguarding of the Intangible Cultural Heritage of UNESCO, the element "Culture of Ukrainian Borscht" is included in the UNESCO List of Intangible Cultural Heritage in Need of Urgent Protection1 / 2 pic.twitter.com/Ebqq6VN9VM

— Emine Dzheppar (@Emine Dzheppar) July 1, 2022
So, by inheritance:
– with beans
– with cabbage
– without bell pepper
– seasoned with parsley and thyme
– dried mushrooms to taste
The rest does not count.

– Name and nationality (@Ukrostap) July 1, 2022
PANTONE named the color of summer 2022 – Magenta Borshch pic.twitter.com/qwIPEOSynb

– Olena Pavlova (@Nympha_Blin) July 1, 2022
— gomola (@ginddd) July 1, 2022
UNESCO recognized borscht as a national Ukrainian dish and included it in the list of cultural heritage sites.

How soon will borsch be recognized as "extremist" and "Nazi" in Russia and will they start jailing for its preparation and distribution of recipes?

— Andrey Pivovarov (@brewerov) July 1, 2022
Ukrainians after that every time the borsch is called rusny: https://t.co/ub7m6vTsSr pic.twitter.com/hiyhnjbRIC

– already with braces 🇺🇦 (@LHopppe) July 1, 2022
Culture of cooking Ukrainian Borscht" was included in the UNESCO Intangible Cultural Heritage List.

Ukrainian! Yesterday they freed Serpentine from the invaders, today they freed borscht.
Borscht is Ukraine. pic.twitter.com/XfcqrZcarV

— Val Michel (@VALMICHEL7) July 1, 2022

Thanks to @ LuisF0 post I was inspired and found series about borsch on YouTube. English subtitles are included. Enjoy! https://t.co/TRfPDAZQQX


— Sylvia (@Sylvia08905705) July 1, 2022
Ukrainian borsch. Cook with garlic and love pic.twitter.com/LZGlBwj21c

– Cat Fig (@kitinzhyr) July 1, 2022
Borsch can be eaten by everyone except Russians and Belarusians. Belarusians just watch how they eat

– Vlad * k (@litaky_letiat) July 1, 2022

News from Perild.com in Telegram. Subscribe to our channel