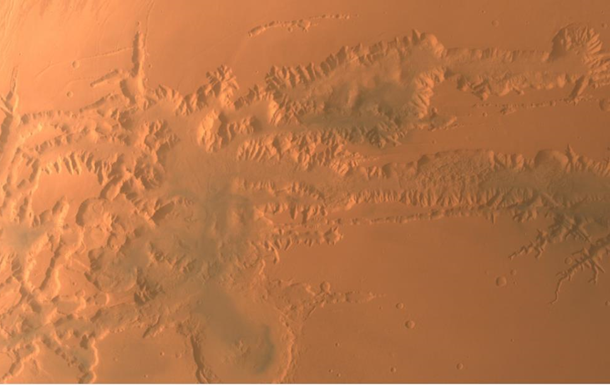 Photo: Screenshot
Chinese spacecraft took pictures of the entire planet Mars
The Chinese Tianwen-1 reached the Red Planet in February 2021 as part of the country's first mission.
The unmanned Chinese spacecraft Tianwen-1 sent back images of different places on Mars, including its south pole. About this on Thursday, June 30, writes Peta Pixel.
It is known that the Chinese space probe Tianwen-1 landed on the Red Planet in May 2021. Then he began to transmit images of the neighboring planet in high resolution to scientists on Earth.
During this time, Tianwen-1 has collected images of almost the entire planet Mars, including the first-ever images of the planet's south pole, where scientists believe water deposits may be concentrated.
Among the images taken from space are the first photographs of the south pole of Mars, where almost all of the planet's water resources are allegedly concentrated.
"The discovery of groundwater is central to determining the planet's potential for life, as well as to provide a permanent resource for any human research," the statement said.
Among the photographs taken by this probe are the rim of the huge Maunder Crater and a bird's eye view of the 18 km volcano Askrey Mons. The Chinese spacecraft also captured the 4,000-kilometer Valles Marineris canyon, or impact craters, high in the north of Mars in an area known as Arabia Terra.
China successfully launched Tianwen-1 on July 23, 2020 aboard a Long March 5 Y-4 launch vehicle from the Wenchang launch site. The probe traveled a total of 474 million km and performed several maneuvers before entering Martian orbit on February 10, 2021. After more than 3 months of preparation, the probe released a lander that landed on Mars on May 15th.
Recall that earlier Perseverance, thanks to two special microphones, recorded five hours of the sounds of the Martian wind, the rustle of wheels and the sounds of the engines of the Ingenuity helicopter.
The American space agency NASA intends to land astronauts on the surface of Mars by 2040.

News from Perild.com in Telegram. Subscribe to our channel