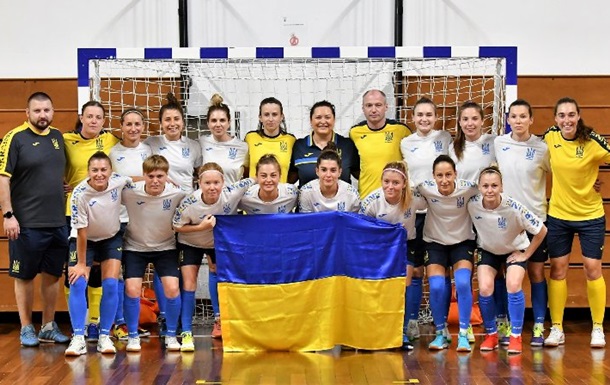 Photo: fsgc.sm
Ukraine starts in the final of the futsal Euro 2022
Anna Sidorenko continued to play in the championship of the aggressor country, despite the full-scale invasion of Ukraine.
Today, July 1, the final part of the Futsal Women's Euro 2022 kicks off. The national team of Ukraine will also take part in it, however, the Blue-Yellows will play without one of their leaders and top scorer – Anna Sidorenko.
As stated in an interview Public.Sports the head coach of the national team Oleg Shaitanov, the athlete was suspended from the tournament because of her position regarding the war in Ukraine.
In early 2021, the futsal player signed a contract with the Russian Normanochka, for whom she continued to play even after the start of the full-scale Russian invasion of Ukraine, becoming the Russian futsal champion and Cup winner.
"We talked with Anna Sidorenko, it was her decision to stay in Russia. All the arguments she gave are not arguments when the country is at war.
Yes, she tried to argue something, but this is her decision, which Anna chose. Let him go his own way," Shaitanov said.
Note that another Ukrainian Yulia Titova also played for Normanochka, but she left the club after the start of the war, and received a call-up to the Ukrainian national team for Euro 2022. In total, there are 14 athletes in the application.

The composition of the Ukrainian women's futsal team:

Goalkeepers: Victoria Sagaidachnaya, Victoria Kislova.

Field players: Julia Forsyuk, Ksenia Gritsenko, Irina Dubitskaya, Alena Kirilchuk, Snezhana Volovenko, Yulia Titova, Sofia Ruban, Taisiya Babenko, Kristina Eremenko, Ksenia Burlachenko, Alexandra Skibina, Polina Drozd.
Recall that the final part of Euro 2022 will be held in Portugal from 1 to 3 July. The teams of Ukraine, Spain, Portugal and Hungary, which replaced Russia excluded due to the war, will take part in the tournament. In the semi-finals, the Ukrainians will play against Spain. The meeting will take place on Friday, July 1, at 19:00 Kyiv time.

News from Perild.com in Telegram. Subscribe to our channel