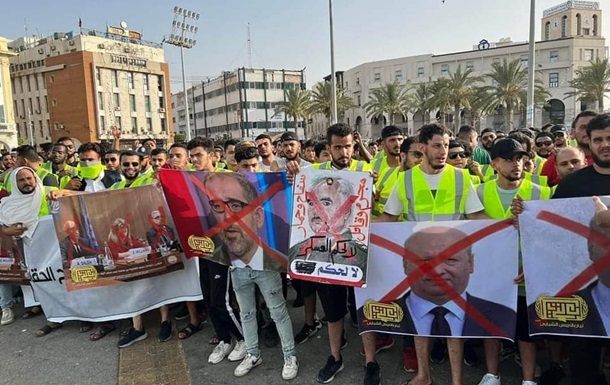 Photo: twitter.com/Lyobserver
Libyans demand the dissolution of all government bodies
Among the activists' demands is to declare a state of emergency in the country and resolve the electricity crisis.
In Libya on Friday, July 1, large-scale protests began. The protesters demand the dissolution of power and the holding of new elections. About it informs Reuters.
Thus, the demonstrators attacked and set fire to the building of the House of Representatives in the city of Tobruk and went to the most massive protest in Tripoli.
"In the current difficult political and social conditions, the youth demand from the Presidential Council to dissolve all government bodies, declare a state of emergency in the country, resolve the electricity crisis, expedite the holding of elections and achieve the withdrawal of foreign mercenaries from the country," the agency quoted the protesters as saying.
The city from which the two contending Prime Ministers hail, Misrata, is also witnessing protests over living conditions.

One can only hope the latest developments in #Libya will be heeded as a wake-up call to right the course of its transition.

The status quo is unsustainable. pic.twitter.com/Ug9LlWIPCK

— Emadddin Badi (@emad_badi) July 2, 2022
🔴LIBYA :#VIDEO PROTESTERS INVADE & RANSACK PARLIAMENT IN TOBRUK! THEY DEMAND THE DISSOLUTION OF GOVERNMENT!

Protests erupt in several cities across the country against power cuts, deteriorating living conditions#BreakingNews #Tripoli #Tobruk #Protests pic.twitter.com/qs8elTJCcr

— loveworld (@LoveWorld_Peopl) July 2, 2022
#Libya: Protesters in Tobruk broke into Libya's parliament building today, setting fire to the building. Protests have now taken place in Benghazi, Tobruk, and other smaller cities today over Libya's failed dual government and poor living conditions.https://t.co/me4JHHvfRG pic.twitter.com/7qmFFn5XXz

— POPULAR FRONT (@PopularFront_) July 1, 2022
Protestors stormed the Lybian Government of National Stability (GNS) parliament building in Tobruk

The protests erupted after days of blackouts and months of political deadlock

The GNS in Tobruk is supported by Khalifa Haftar's Libya National Army (LNA) pic.twitter.com/Ocm0fG369Q

— OPSEC? (@GuinieZoo_Intel) July 1, 2022
As reported, in February, unknown people fired at the car of Libyan Prime Minister Abdul Hamid al-Dabaiba in Tripoli. The attempt was made after the head of government rejected the parliament's decision to appoint a new prime minister at the head of the country's transitional government.

Not only Ukraine. What conflicts to expect in 2022

News from Perild.com in Telegram. Subscribe to our channel