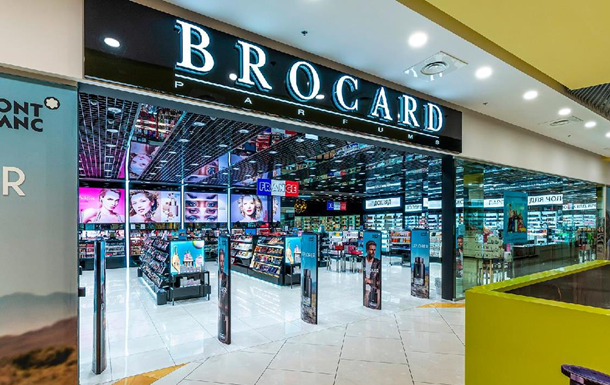 Photo: gullivercenter.com
Russian woman owned a network of Brocard stores in Ukraine
The ultimate beneficiary was Russian woman Tatiana Volodina, who shortly before her arrest tried to sell corporate rights.
The Podolsky District Court of Kyiv seized 100% of the corporate rights of Brocard-Ukraine LLC, owned by the Cypriot company Indenon Holding Limited, and through it, the Russian woman Tatyana Volodina, the owner of the Russian network L'Etoile. This became known from the court documents after the registry has been made public.
The arrest was imposed as part of criminal proceedings on appropriation of property (part 5 of article 191 of the Criminal Code) and financing of aggression against Ukraine (part 2 of article 110-2 of the Criminal Code).
The court forbade Volodina and her representatives to alienate corporate rights to Brocard-Ukraine, but in early June, Brocard sent out messages to partners about the change of ownership – the company was sold to the perfume holding Philippe Benacin Holding (as it turned out later, without the permission of the Antimonopoly Committee).
After that, Brocard-Ukraine's lawyers asked the court to cancel the seizure of property, given that the ultimate beneficial owner of the company was French citizen Philip Benasin.
The court granted the request of Brocard-Ukraine, but in part. The arrest remains in force, as well as the prohibition to perform any actions related to the state registration of ownership of the company's corporate rights. At the same time, she was allowed to change the director and location of the legal entity.
As of January 1, the Brocard network consisted of about 100 stores in 26 cities of Ukraine. The company's staff was 1808 people.
Recall that on April 1, the Verkhovna Rada approved a law providing for the nationalization of the property of Russian citizens.
And on March 3, the Verkhovna Rada adopted a law on the nationalization of the assets of Russian companies, legal entities and individuals.

News from Perild.com in Telegram. Subscribe to our channel