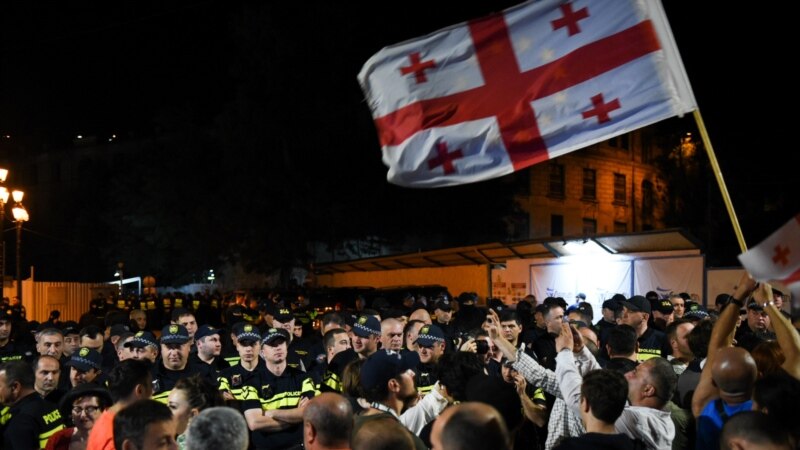 In Tbilisi, tens of thousands of people from all regions of Georgia again gathered on the central Rustaveli Avenue, near the parliament building, after the expiration of the seven-day ultimatum presented to the Georgian authorities by the leaders of the NGO Shame. A week ago, it was they who initiated the mass social movement "Home to Europe," a Radio Liberty correspondent reports.
According to the ultimatum, Prime Minister Irakli Garibashvili was supposed to resign by Sunday, and the ruling Georgian Dream party to announce its consent to the formation of a "technical government" of people's trust in order to fulfill the twelve conditions of the EU, voiced by the leaders of the European Commission for granting the country status " candidate for EU membership.
A decision was read out at the action to continue the rally until the Garibashvili government resigns. The rally is held peacefully, to the sounds of Georgian and Ukrainian songs.
On June 17, the head of the European Commission, Ursula Von Der Leyen, announced that Ukraine and Moldova were granted the status of a candidate for EU membership. Georgia was ordered to fulfill a number of conditions in order to obtain the status. In particular, the country must carry out a number of systemic reforms. Including on the deoligarchization of political and economic life, depolarization, ensuring the independence of the judicial reform and protecting the rights of journalists, as well as various minorities.
Prime Minister Garibashvili refused to resign, and Irakli Kobakhidze, chairman of the ruling party, suggested that the opposition create several parliamentary commissions to gradually fulfill the conditions of the EU.
The leaders of the opposition parties, including the largest of them, Mikheil Saakashvili's United National Movement, consider any negotiations with Georgian Dream to be "meaningless".