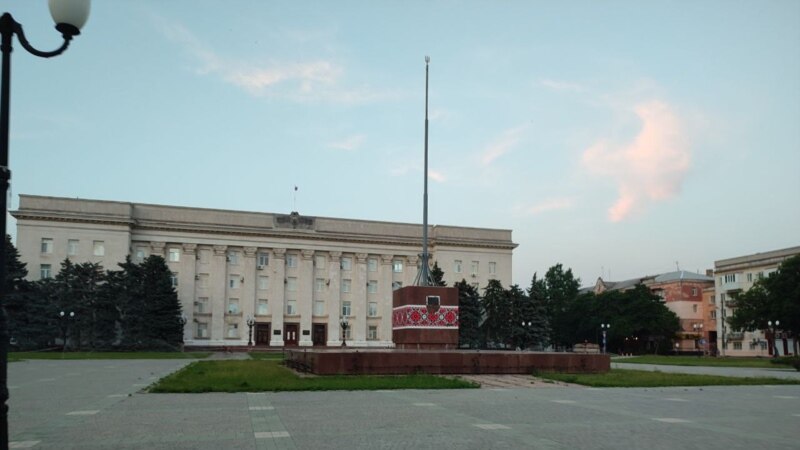 The so-called military-civilian administration of the Kherson region of Ukraine, created after the occupation of most of the region by Russian troops, on Monday announced on the establishment of a regional government. It was headed by a former Russian official.
As stated in a message on behalf of the head of the occupation administration Vladimir Saldo, he decided "to select the best personnel not only among the inhabitants of the Kherson region, but also among Russian professionals and managers." The so-called government was headed by Sergei Eliseev, who was previously the first deputy head of the government of the Kaliningrad region, and before that he served in the FSB. Another Russian from Kaliningrad, Vladimir Bespalov, became Deputy Prime Minister. The former deputy head of the administration of Kashira near Moscow, Mikhail Rodikov, headed the Ministry of Education and Science.
Another deputy prime minister was Alexei Kovalyov, a former deputy of the Verkhovna Rada of Ukraine, who was a member of the presidential faction Servant of the People. After the capture of Kherson by Russian troops in early March, he came to the city, declaring that he should be with his constituents. Some time later, he wrote on Facebook that he was cooperating with the Russian authorities and the administration appointed by them.
Earlier, Russian officials occupied high positions in the administrations of the so-called "DNR" and "LNR". Official Moscow has not announced plans to annex the Kherson region, but Russian officials who have visited the region have repeatedly stated that its future lies in integration with Russia.
Kherson is the only regional center of Ukraine occupied by Russian troops after the February 24 invasion. At the same time, not the entire territory of the Kherson region is under the control of Russian troops. Several settlements are still held by Ukraine, and fighting is going on at the front. The Economist's edition reports about the situation in the region notes that Ukrainian troops are now occupying positions "a kilometer from the suburbs of Kherson." According to open sources, the front is about 20 km from the city, not far from the administrative border with the Nikolaev region. A number of representatives of Ukraine stated that Kherson could become one of the targets of the alleged counter-offensive.