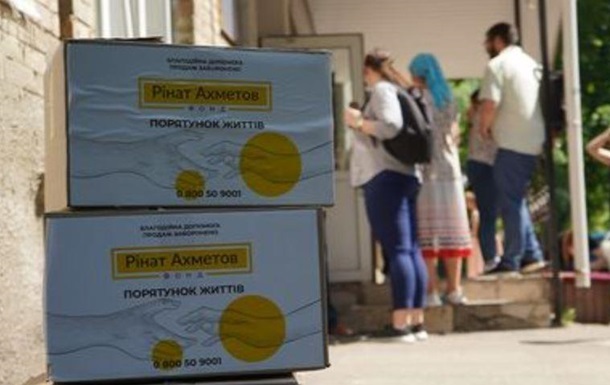 Photo: Rinat Akhmetov Foundation
Ukrainians and defenders of the country continue to receive assistance from Akhmetov
Humanitarian aid to SCM businesses, the Akhmetov Foundation and FC Shakhtar has covered more than 3 million people, assistance to the defenders of Ukraine continues.
SCM enterprises, the football club Shakhtar and the Rinat Akhmetov Foundation have donated 2.7 billion hryvnia to help Ukraine and Ukrainians since the beginning of the Russian invasion, according to site companies on Thursday, July 7th.
"From February 24 to July 1, the SCM business, the Rinat Akhmetov Foundation and the football club Shakhtar donated UAH 2.7 billion, or about $90 million, to help," the message says.
The priority direction of assistance is humanitarian aid, as well as support for the security forces and the military.
"Defenders of Ukraine regularly receive ammunition, vehicles, drones, special technical equipment (thermal imagers, rangefinders, cameras, etc.), fortifications, clothing and footwear, first-aid kits and turnstiles, walkie-talkies, fuel and other things they need from SCM businesses and accessories," the company said.
Initially, the Akhmetov Foundation planned to distribute 200 thousand food packages to the population, but in June the businessman decided to double the food aid.
The Foundation is also filling the Museum of the Voice of the Peaceful – more than 25,000 stories of people affected by the war have already been collected.
In turn, the businesses of Metinvest and DTEK, with the support of the Fund and international donors, are implementing the Save a Life project, under which medicines and medical products are supplied to Ukraine.
In total, the humanitarian aid provided by the businesses of SCM, the Akhmetov Foundation and FC Shakhtar covered more than 3 million people. Of these, more than 1.2 million were covered by the Fund.
Work continues to support citizens in the cities where SCM businesses operate. In support centers based on enterprises, both their employees and local residents, as well as internally displaced persons, receive assistance.
It should be noted, according to media estimates, at the beginning of June, Akhmetov allocated 100 million euros to help the military and the population.

News from Perild.com in Telegram. Subscribe to our channel