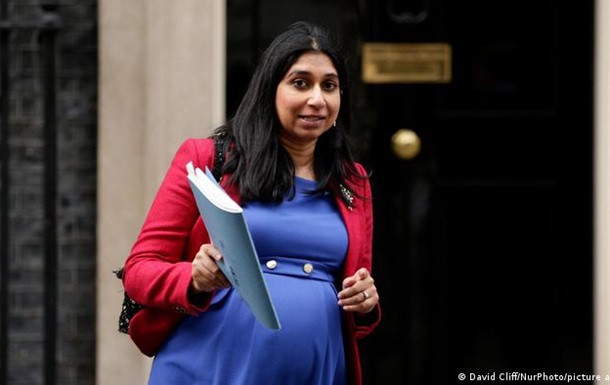 UK Attorney General Swella Braverman
Due to the increasing scandals around him, the British prime minister is under increasing pressure from conservatives demanding his departure. Now Attorney General Swella Braverman has joined them.
British Prime Minister Boris Johnson is under increasing pressure from fellow Conservatives to step down. Now Attorney General Swella Braverman has joined them.
Johnson should resign, she said on the evening of Wednesday, July 6, on the air of the ITV channel. According to her, she is ready to put forward her candidacy for the post of head of government in the event of Johnson's resignation. Previously, Braverman was considered his supporter.

Four dozen layoffs on Johnson's team
Following calls for his resignation, Prime Minister Boris Jones sacked UK Housing, Communities and Local Government Minister Michael Gove, who was considered a powerful politician in the cabinet. This was announced in an interview with Sky News on Wednesday evening by James Duddridge, a close associate of Johnson.
"The Prime Minister is in excellent spirits and will continue to fight," Duddridge added.
Michael Gove was the driving force behind Brexit. As UK Secretary of State for Housing, Communities and Local Government, which he took up in September 2021, Gove was to implement Johnson's plans to develop disadvantaged areas. Gove is considered one of Johnson's longtime supporters, despite running against him in the 2016 and 2019 Conservative leadership races but finishing third both times. Prior to his appointment as Minister of Housing, Communities and Local Government, he served as Head of the Prime Minister's Office.
Johnson is currently experiencing the biggest crisis in his three years as prime minister. Following the dismissal of Finance Minister Rishi Sunak and Health and Welfare Minister Sajid Javid on Tuesday, the number of officials who left the Conservative government and parliamentary apparatus amid scandals over the prime minister rose to nearly 40. Simon resigned last Wednesday evening. Hart, Secretary of State for Wales.
Recall that British Prime Minister Boris Johnson himself said that he would not leave the post of head of the government of the United Kingdom, despite calls from members of the Cabinet. According to the publication, despite the calls of colleagues, the politician "holds on firmly and refuses to leave," referring to the fact that he needs to concentrate on "extremely important problems facing the country."
Johnson's scandal flared up last week when it became known that the former British Deputy Foreign Secretary for European and US Affairs, Christopher Pincher, while intoxicated, solicited two men in a public institution. After the incident, a senior representative of the ruling Conservative Party in the House was forced to leave his position, but journalists learned that Johnson covered for Pincher and promoted him.

Poll: Nearly 70% of Britons are in favor of Johnson's resignation