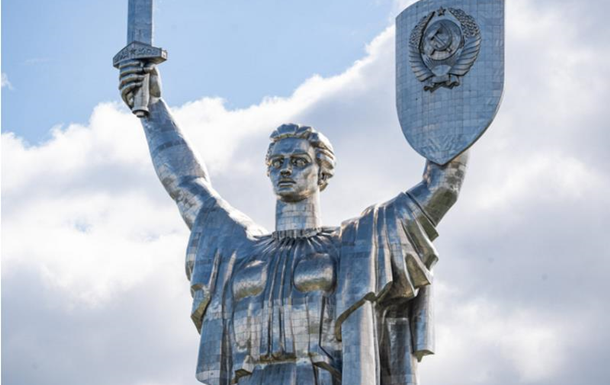 Photo: mkip.gov.ua
Ukrainians are offered to decide what to do with the coat of arms on the Motherland Monument
While specialists are working on the technical side of the decommunization of the monument, Ukrainians in the Diya mobile application are offered to take a survey "What will we do with the coat of arms of the USSR on the shield of the Motherland-Mother monument?"
The Ministry of Culture and Information Policy, together with the Ministry of Digital Transformation, invites Ukrainians to take part in deciding the fate of the Motherland Monument in Kyiv. About it reported in the press office of the ministry.
In particular, it is necessary to decide what to do with the shield, which still bears the coat of arms of the USSR.
"We dressed her in a poppy wreath and lit it up with the colors of the Ukrainian flag several times. But there is one "but," said Minister of Culture and Information Policy Oleksandr Tkachenko.
According to the minister, the technical process of decommunization of the monument is not easy: it is important to do everything so that the monument is not damaged due to changes in load.
In the meantime, specialists will work on the technical side of the decommunization of the monument, Ukrainians in the Diya mobile application are offered to take a survey "What will we do with the coat of arms of the USSR on the shield of the Motherland-Mother monument?"
The Ministry of Culture proposed options for voting:
let it be as it is;
remove the Soviet coat of arms and leave the shield clean;
replace the Soviet coat of arms with a trident.
It is reported that only adult Ukrainians (not only Kievans) can take part in the survey. Voting will last from 7 to 21 July.
Recall that in the city of Pereyaslav, Kyiv region, a monument erected to the 300th anniversary of the "reunification" of Ukraine with Russia was demolished.
Earlier, near Kyiv in Brovary, Soviet monuments were dismantled in Victory Park. Instead, Ukrainian symbols will appear in the park.

News from Perild.com in Telegram. Subscribe to our channel