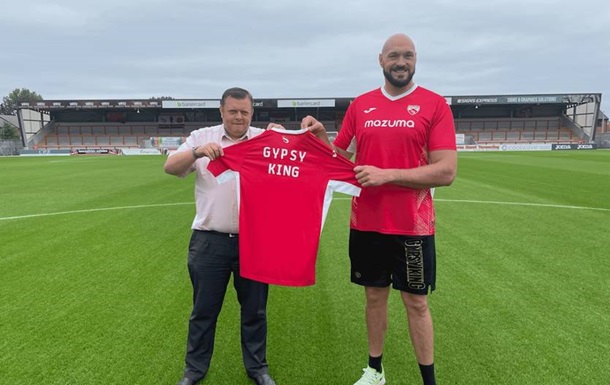 Photo: morecambefc.com
Fury became the sponsor of the English club
The WBC heavyweight champion doesn't seem to know what to do with his retirement.
It seems that Tyson Fury is getting bored in retirement and he simply does not know what to do with himself. This time around, the WBC heavyweight champion decided he wanted to sponsor a football club.
Since the boxer did not have enough money for a representative of the Premier League, he decided to take a simpler club. As a result, Tyson's choice fell on the modest Morecambe – playing in the third division of England.
There they were unspeakably happy with the honour. And although the contract is for only one year, the 2022/23 season, Morecambe announced that they hope to continue cooperation.
And the head of the commercial department of the team, Martin Thomas, immediately awarded Fury the title of a fantastic ambassador. It should be noted that the contract provides for the placement on the club's uniform of a brand advertisement developed by the boxer – Gypsy King.

Morecambe FC is proud to announce a commercial deal which will see the two-time Heavyweight Champion of the World @Tyson_Fury sponsor the home and away playing shorts, for the 2022/23 @SkyBetLeagueOne season.#UTS 🦐


— Morecambe FC (@ShrimpsOfficial) July 21, 2022
"Tyson is a fantastic ambassador for Morecambe and it is fantastic that we can afford to partner with him. Tyson is one of the most recognizable names in the world of sports and he will bring worldwide recognition to the club.
He will join an ever-growing list of commercial partners, along with local and national brands and local businesses that the club has signed with in recent seasons. We now have a huge reach around the world, and with this partnership, we will further assert ourselves on the global stage," Morecambe said.
In turn, the boxer was not so verbose and only stated that he was glad to have the opportunity to support his local club in a similar way.
"I love Morecambe and it's great to be able to support my local club," Fury said.

News from Perild.com in Telegram. Subscribe to our channel