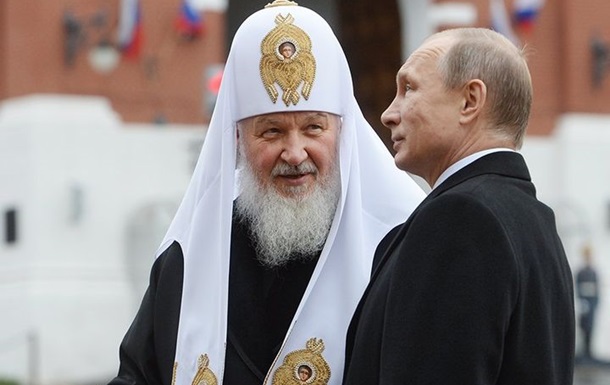 Photo: Getty Images
Patriarch Kirill and Russian President Vladimir Putin
The head of the Russian Orthodox Church will now not be able to enter the territory of the Lithuanian state until July 23, 2027. The reason for this is his support for the war in Ukraine.
Lithuania has banned Patriarch of the Russian Orthodox Church (ROC) Kirill, also known as Vladimir Gundyaev, from entering the country because of his support for Russia's full-scale invasion of Ukraine. About it informs Lithuanian news agency LRT with reference to the confirmation of the Ministry of Internal Affairs of Lithuania on Wednesday, July 27
The cleric is now on the unwanted list. However, it has not been publicly reported so far. The decision was made after taking into account the proposal of the Lithuanian Foreign Ministry.
Patriarch Kirill is included in the list due to the fact that he deliberately denies the territorial integrity and sovereignty of Ukraine, justifies and supports the war unleashed by the Russian Federation, the Lithuanian Ministry of Internal Affairs notes. They also noted that he is "one of the most active supporters of the war against Ukraine, who has repeatedly publicly spoken positively about the ongoing Russian aggression."
Patriarch Kirill openly calls the people of Ukraine "participants in the Nazi regime" in the Russian propaganda media. According to him, Ukrainians must be deported or destroyed. In addition, on February 27, 2022, he blessed the Russian soldiers participating in the war against Ukraine and "gave a canonical justification for the war unleashed by Russia"
The ban on visiting Lithuania will last for a clergyman until June 23, 2027.
It should be noted that Lithuania proposed to impose sanctions against Kirill at the EU level back in the spring, but in June, during the approval of the sixth package of sanctions against Russia, he was excluded from the list at the initiative of Hungary.
Recall that Canada imposed sanctions against the head of the Russian Orthodox Church, Patriarch Kirill.
Earlier it was reported that the UK also imposed restrictions on the head of the Russian Orthodox Church.

News from Perild.com in Telegram. Subscribe to our channel