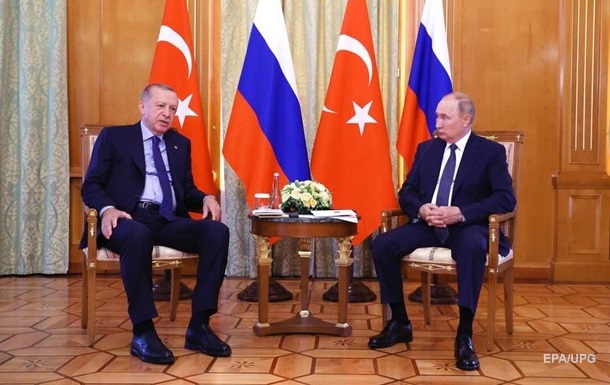 Erdogan and Putin met in Sochi
The Turkish president has long been trying to organize a meeting between the presidents of Ukraine and Russia. I raised this topic again during my visit to Sochi.
Turkish President Recep Tayyip Erdogan, during a meeting with Russian President Vladimir Putin in Sochi, invited him to meet with Ukrainian President Vladimir Zelensky. This is reported Hurriyat.
"I emphasize that there will be no winner in the war. Despite the difficulties on the ground, I also firmly believe that the crisis will be resolved at the negotiating table. I reminded Mr. Putin once again that we can accept his meeting with Mr. Zelensky. We will continue to develop our dialogue with our Black Sea neighbor, Russia, in all areas in order to promote regional and global peace," he said.
Erdogan also confirmed that he had agreed with Putin on payments for Russian gas in rubles.
Answering questions about the situation with the supply of grain from the ports of Ukraine, Erdogan noted that at the moment there are about 20 ships in line.
In addition, Erdogan announced his intention to personally inspect the Akkuyu nuclear power plant under construction in Turkey, and then tell Putin about the situation at the facility and jointly determine the next steps.
Read more about the results of Erdogan's visit to Putin in the material Perild.com.

News from Perild.com in Telegram. Subscribe to our channel