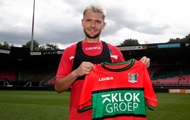 Mikkel Duelund took advantage of the FIFA rule.
Dynamo Kyiv winger Mikkel Duelund will continue his career in the Dutch Championship.
The Danish footballer stayed at Nijmegen, where he played last season on loan.
Read also: Dynamo defender went on another loan to Brazil
The club took advantage of the FIFA clause, which suspends the contracts of legionnaires of Ukrainian teams for one year. Thus, Mikkel will play the upcoming season in the Netherlands.
The 25-year-old made 25 appearances for Nijmegen last season, scoring three goals and providing three assists.
Duelund's current contract with Dynamo expires in the summer of 2023.
Earlier it was reported that UEFA punished Fenerbahçe for fans chanting the name of the President of the Russian Federation at the match with Dynamo.